Seat heaters and ventilators
The seat heaters and ventilators heat the seats and maintain good airflow by blowing air from the seats.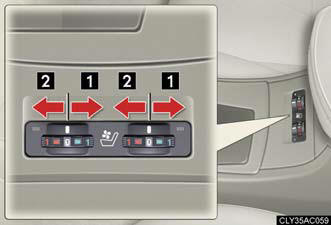 1. Heats the seats.
The indicator light (orange) comes on.
The higher the number, the warmer the seats become.
2. Blows air from the seats.
The indicator light (green) comes on.
The higher the number, the stronger the airflow becomes.
The seat heaters and ventilators can be used when
The "ENGINE START STOP" switch is in IGNITION ON mode.
When not in use
Set the dial to 0. The indicator light turns off.
CAUTION:
Burns
- Use caution when seating the following persons in a seat with the seat heater on
to avoid the possibility of burns: • Babies, small children, the elderly, the sick and the disabled.
• Persons with sensitive skin.
• Persons who are fatigued.
• Persons who have taken alcohol or drugs that induce sleep (sleeping drugs, cold remedies, etc.).
- Do not cover the seat with anything when using the seat heater.
Using the seat heater with a blanket or cushion increases the temperature of the seat and may lead to overheating.
NOTICE:
To prevent seat heater damage Do not put unevenly weighted objects on the seat and do not stick sharp objects (needles, nails, etc.) into the seat.
To prevent battery discharge Set the dial to 0 when the engine is not running.
See also:
Trailer towing (AWD models with towing package)
Your vehicle is designed primarily as a passenger-and-load carrying vehicle. Towing a trailer will have an adverse effect on handling, performance, braking, durability, and fuel consumption. For y ...
Leftlane's bottom line
Looking at the sales figures alone, the ES fills an obvious slot in the market that no other automaker has really chosen to take on. Priced more like the compact IS, the ES is sized like the GS bu ...
Interior lights and personal lights
Interior lights 1. Front and rear interior lights ON/OFF. 2. Door position ON/OFF. The illuminated entry system is activated when the switch is in the locked position (the door position is on ...