Seat heaters and ventilators
The seat heaters and ventilators heat the seats and maintain good airflow by blowing air from the seats.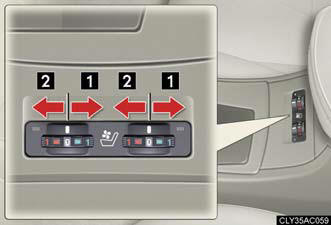 1. Heats the seats.
The indicator light (orange) comes on.
The higher the number, the warmer the seats become.
2. Blows air from the seats.
The indicator light (green) comes on.
The higher the number, the stronger the airflow becomes.
The seat heaters and ventilators can be used when
The УENGINE START STOPФ switch is in IGNITION ON mode.
When not in use
Set the dial to 0. The indicator light turns off.
CAUTION:
Burns
- Use caution when seating the following persons in a seat with the seat heater on
to avoid the possibility of burns: Х Babies, small children, the elderly, the sick and the disabled.
Х Persons with sensitive skin.
Х Persons who are fatigued.
Х Persons who have taken alcohol or drugs that induce sleep (sleeping drugs, cold remedies, etc.).
- Do not cover the seat with anything when using the seat heater.
Using the seat heater with a blanket or cushion increases the temperature of the seat and may lead to overheating.
NOTICE:
To prevent seat heater damage Do not put unevenly weighted objects on the seat and do not stick sharp objects (needles, nails, etc.) into the seat.
To prevent battery discharge Set the dial to 0 when the engine is not running.
See also:
Lexus IS 250 Review
If you're shopping for an entry-level luxury sedan with a sporty disposition, you'll undoubtedly come across the compact Lexus IS 250. Although modestly powered for a premium-brand sport sedan, th ...
Anti-glare inside rear view mirror
In automatic mode, sensors are used to detect the headlights of vehicles behind and the reflected light is automatically reduced. Turns automatic mode on/off The indicator comes on when automati ...
SRS airbags
The SRS airbags inflate when the vehicle is subjected to certain types of severe impacts that may cause significant injury to the occupants. They work together with the seat belts to help reduce the ...