Bluetooth® audio system
The Bluetooth® audio system enables you to enjoy music played on a portable
digital audio player (portable player) from the vehicle speakers via wireless communication.
This audio system supports Bluetooth®, a wireless data system capable of playing portable audio music without cables. If your portable player does not support Bluetooth®, the Bluetooth® audio system will not function.
- Vehicles with a navigation system.
Owners of models equipped with a navigation system should refer to the "Navigation System Owner's Manual".
- Vehicles without a navigation system.

Conditions under which the system will not operate
If using a portable player that does not support Bluetooth®.
If the portable player is switched off.
If the portable player is not connected.
If the portable player's battery is low.
If the portable player is behind the seat or in the glove box or console box.
If metal is covering or touching the portable player.
When transferring ownership of the vehicle
Be sure to initialize the system to prevent personal data from being improperly
accessed.
About Bluetooth®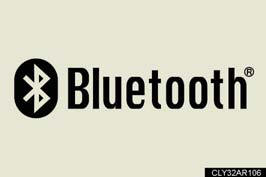 Bluetooth is a registered trademark of Bluetooth SIG. Inc.
Compatible models
Bluetooth® specifications: Ver. 1.1, or higher (Recommended: Ver. 1.2).
Following profiles:
• A2DP (Advanced Audio Distribution Profile) Ver. 1.0, or higher (Conformed: Ver. 1.2).
• AVRCP (Audio/Video Remote Control Profile) Ver. 1.0 or higher (Conformed: Ver. 1.3).
Portable players must correspond to the above specifications in order to be connected
to the Bluetooth® audio system. However, please note that some functions may be limited depending on the type of portable player.
Certification for the Bluetooth® audio system
FCC ID: AJDK018.
IC ID: 775E-K018.
MADE IN JAPAN.
This device complies with Part 15 of the FCC Rules and RSS-Gen of IC Rules.
Operation is subject to the following two conditions: (1) This device may not cause
harmful interference, and (2) This device must accept any interference received, including interference that may cause undesired operation.
CAUTION:
FCC WARNING
Changes or modifications not expressly approved by the party responsible for compliance could void the user's authority to operate the equipment.
Radio Frequency Radiation Exposure. This equipment complies with FCC radiation exposure limits set forth for uncontrolled equipment and meets the FCC radio frequency
(RF) Exposure Guidelines in Supplement C to OET65. This equipment has very low levels of RF energy that it deemed to comply without maximum permissive exposure evaluation (MPE). But it is desirable that it should be installed and operated
with at least 7.9 in. (20 cm) and more between the radiator and person's body (excluding extremities: hands, wrists, feet and ankles).
This transmitter must not be co-located or operated in conjunction with any other
antenna or transmitter.
Caution while driving
Do not connect portable players or operate the controls.
NOTICE:
To prevent damage to portable players Do not leave portable players in the vehicle. The temperature inside the vehicle may become high, resulting in damage to the player.
See also:
Items to initialize
After reconnecting or performing maintenance on the battery, the following items must be initialized for normal system operation. ...
Lexus GS 300 Review
Its only a Toyota in a party frock I can hear you say. Your not fooled by the Lexus logo, so why did Toyota bother. In the sector that this Lexus lives, name is everything , the competition has ...
What is it?
Now nearing the end of its third generation, the GS slots in above the sporty IS and below the luxury-laden LS. It's sized about like the tremendously popular ES 350, but the GS offers rear-wheel- ...