Correct driving posture
Drive in a good posture as follows: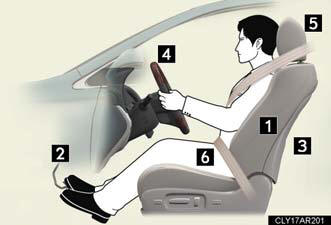 1. Sit upright and well back in the seat.
2. Adjust the position of the seat forward or backward to
ensure the pedals can be reached and easily
depressed to the extent
required.
3. Adjust the seatback so that the controls are easily operable.
4. Adjust the tilt and telescopic positions of the steering wheel downward so the airbag is facing your chest.
5. Lock the head restraint in place with the center of the head restraint closest to the top of your ears.
6. Wear the seat belt correctly.
CAUTION:
While driving
Do not adjust the position of the driver's seat.
Doing so could cause the driver to lose control of the vehicle.
Do not place a cushion between the driver or passenger and the seatback.
A cushion may prevent correct posture from being achieved, and reduce the effectiveness of the seat belt and head restraint, increasing the risk of death or
serious injury to the driver or passenger.
Do not place anything under the front seats.
Objects placed under the front seats may become jammed in the seat tracks and stop the seat from locking in place. This may lead to an accident, resulting in death or serious injury. The adjustment mechanism may also be damaged.
Adjusting the seat position Take care when adjusting the seat position to ensure that other passengers are not injured by the moving seat.
Do not put your hands under the seat or near the moving parts to avoid injury.
Fingers or hands may become jammed in the seat mechanism.
See also:
Audio system
- Vehicles with a navigation system. Owners of models equipped with a navigation system should refer to the "Navigation System Owner's Manual". - Vehicles without a navigation system (type A). CD ...
Engine compartment
1. Brake fluid reservoir. 2. Engine oil filler cap. 3. Engine oil level dipstick. 4. Power control unit coolant reservoir. 5. Fuse boxes. 6. Engine coolant reservoir. 7. Radiator. 8. Conden ...
High Body Rigidity
Particular attention has been paid to promoting superior handling stability through the structural rigidity of the bodyshell. The Lexus CT 200h's torsional stiffness has been enhanced and vibratio ...