Rear sunshade
The rear sunshade can be raised and lowered by operating the switch shown below.

Type A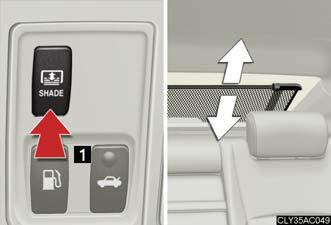 1. Raise/lower

Type B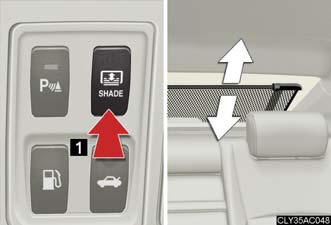 1. Raise/lower
The rear sunshade can be used when
The "ENGINE START STOP" switch is in IGNITION ON mode.
Reverse operation feature
The rear sunshade automatically lowers when the shift lever is shifted into R. The
rear sunshade rises when the shift lever is shifted out of R and vehicle speed reaches 9 mph (15 km/h).
When the reverse operation feature does not operate
The rear sunshade may not lower or rise automatically. In this case, press the switch
to lower or raise the rear sunshade.
CAUTION:
When the rear sunshade is being raised or lowered Do not place fingers or other objects in the fastener section or in the opening.
They may get caught, causing injury.
NOTICE:
To prevent the battery from being discharged Do not operate the rear sunshade when the engine is not running.
To ensure normal operation of the sunshade Observe the following precautions.
- Do not place excessive load on the motor or other components.
- Do not place objects where they may hinder opening and closing operations.
- Do not attach items to the rear sunshade.
- Keep the opening clean and clear of obstructions.
- Do not operate the rear sunshade continuously over long periods of time.
See also:
Cleaning and protecting the vehicle exterior
Perform the following to protect the vehicle and maintain it in prime condition. Working from top to bottom, liberally apply water to the vehicle body, wheel wells and underside of the vehicle to ...
Fuel pump shut off system
To minimize the risk of fuel leakage when the engine stalls or an airbag inflates upon collision, the fuel pump shut off system stops supplying fuel to the engine. Follow the procedure below to res ...
Leftlane's bottom line
We expected to be able to easily write off the GS 460 given its age and Lexus' general aversion to enthusiastic driving. But a week behind the wheel of the smooth and capable GS revealed a surpris ...