Ashtray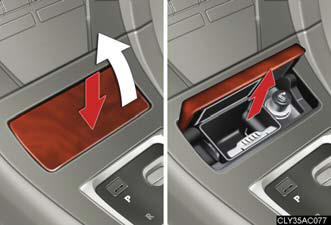 Push the back part of the lid to open.
To remove, pull the ashtray upwards.
CAUTION:
When not in use
Keep the ashtray closed.
Injuries may result in the event of sudden braking, sudden swerving or an accident.
To prevent fire
- Fully extinguish matches and cigarettes before putting them in the ashtray, then
make sure the ashtray is fully closed.
- Do not place paper or any other type of flammable object in the ashtray.
See also:
2011 Lexus CT 200h review By Scott Burgess
Americans love hybrid hatchbacks, but mostly for the hybrid part; overall, we're still lukewarm on traditional hatchbacks. Lexus added a third ingredient Ч budget luxury Ч to create the CT 200h. W ...
Luggage compartment features
Cargo hooks Raise the hook to use. The cargo hooks are provided for securing loose items. Auxiliary boxes Pull the strap upwards when lifting the cover up. Luggage covers Attach the hook ...
Performance
Even if you like the looks inside and out Ч which many likely will Ч there is nothing endearing about the driving experience. First there's the body-lean issue. When you take a highway off-ramp at ...