Air conditioning filter
The air conditioning filter must be cleaned or changed regularly to maintain
air conditioning efficiency.
Replacement method
1. Turn the "ENGINE START STOP" switch OFF.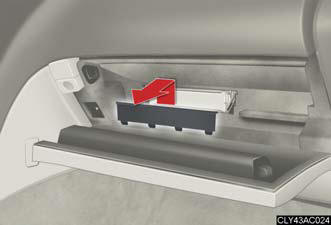 2. Open the glove box. Remove the glove box cover.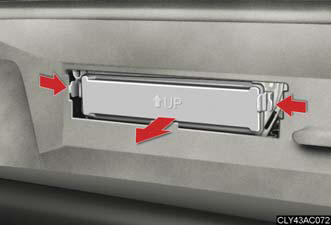 3. Remove the filter cover.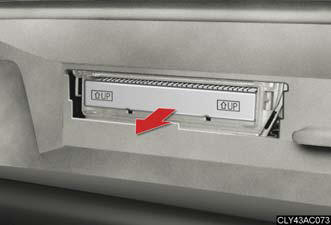 4. Remove the filter.
Be sure that the correct side of the filter faces up when installing it.
Cleaning method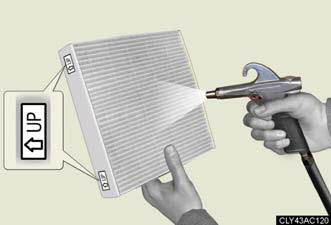 If the filter is dirty, clean by blowing compressed air through the filter from the downward side.
Hold the air gun 2 in. (5 cm) from the filter and blow for approximately 2 minutes at 72 psi (500 kPa, 5.0 kgf/cm2 or bar).
If it is not available, have the filter cleaned by your Lexus dealer.
Checking interval
Inspect, clean and replace the air conditioning filter according to the maintenance
schedule. In dusty areas or areas with heavy traffic flow, more frequent cleaning or
early replacement may be required. (For scheduled maintenance information, please refer to the "Warranty and Services Guide/Owner's Manual Supplement/ Scheduled Maintenance".)
If air flow from the vents decreases dramatically
The filter may be clogged. Check the filter and replace if necessary.
NOTICE:
To prevent damage to the system - When using the air conditioning system, make sure that a filter is always installed.
- When cleaning the filter, do not clean the filter with water.
See also:
Features
While the RX 450h is reasonably priced to start at $42,110, adding options quickly ratchets up the sticker price. Items you might find standard on other cars in this class, like those heated and c ...
High Body Rigidity
Particular attention has been paid to promoting superior handling stability through the structural rigidity of the bodyshell. The Lexus CT 200h's torsional stiffness has been enhanced and vibratio ...
Used Lexus ES 350
Models Introduced for 2007, the present-generation Lexus ES 350 essentially hasn't changed much, making low-mileage, well-kept examples top used car choices. The previous generation of the ES, w ...