If the electronic key does not operate properly
If communication between the electronic key and vehicle is interrupted or the electronic key cannot be used because the battery is depleted, the smart access system with push-button start and wireless remote control cannot be used. In such cases, the doors can be opened and the hybrid system can be started by following the procedure below.
Locking and unlocking the side doors and key linked functions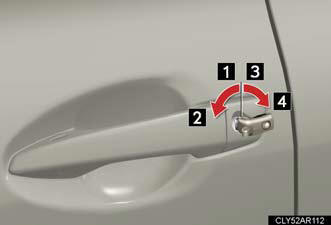 Use the mechanical key in order to perform the following operations (driver's door only): 1. Locks all the doors.
2. Closes the windows and moon roof (turn and hold).
3. Unlocks the door.
Turning the key rearward unlocks the driver's door. Turning the key once again unlocks the other doors.
4. Opens the windows and moon roof (turn and hold).
Changing "POWER" switch modes and starting the hybrid system
1. Ensure that the shift lever is in P and depress the brake pedal.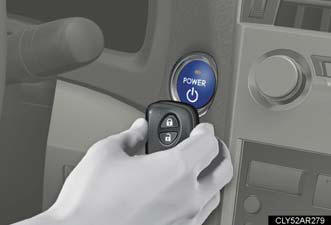 2. Touch the Lexus emblem side of the electronic key to the "POWER" switch.
If any of the doors is opened or closed while the key is being touched to the switch, an alarm will sound to indicate that the start function cannot detect the electronic key.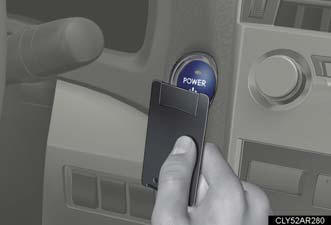 3. To change "POWER" switch modes: Within 10 seconds of the buzzer sounding, release the brake pedal and press the "POWER" switch. Modes can be changed each time the switch is pressed.
To start the hybrid system: Press the "POWER" switch within 10 seconds of the buzzer sounding, keeping the brake pedal depressed.
In the event that the hybrid system still cannot be operated, contact your Lexus dealer.
Stopping the hybrid system
Shift the shift lever to P and press the "POWER" switch as you normally do when
stopping the hybrid system.
Replacing the key battery
As the above procedure is a temporary measure, it is recommended that the electronic
key battery be replaced immediately when the battery is depleted.
See also:
Checking and replacing fuses
If any of the electrical components do not operate, a fuse may have blown. If this happens, check and replace the fuses as necessary. 1. Turn the "ENGINE START STOP" switch OFF. 2. Remove the engin ...
Headlight aim (vehicles with discharge headlights)
Vertical movement adjusting bolts 1. Adjustment bolt A. 2. Adjustment bolt B. Before checking the headlight aim 1. Make sure the vehicle has a full tank of gas and the area around the headlight ...
Chassis/Body/Suspension/Tires/Brakes
The Lexus IS models provide a sporty driving experience while also offering a supple, quiet ride. The double-wishbone front suspension and multi-link rear suspension use high-strength steel and al ...