Outside temperature display (vehicles without a navigation system)
The temperature display shows temperatures within the range of -40°F (-40°C) and 122°F (50°C).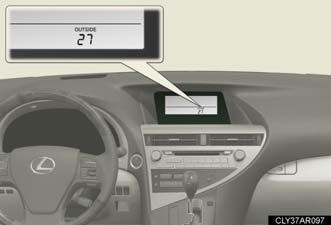 If the temperature does not appear
The system may be malfunctioning. Take your vehicle to your Lexus dealer.
Display
In the following situations, the correct outside temperature may not be displayed, or
the display may take longer than normal to change: When the vehicle is stopped, or moving at low speeds (less than 16 mph [25 km/h]).
When the outside temperature has changed suddenly (at the entrance/exit of a garage, tunnel, etc.).
See also:
Most recent Lexus GS 300
Last redesigned for 2006, the third-generation Lexus GS 300 lasted only one year, as Lexus installed a powerful new 3.5-liter V6 in its rear-drive midsize sedan the following year, prompting a nam ...
Hybrid system precautions
Take care when handling the hybrid system, as it contains a high voltage system (about 650V at maximum) as well as parts that become extremely hot when the hybrid system is operating. Obey the cauti ...
Cleaning and protecting the vehicle exterior
Perform the following to protect the vehicle and maintain it in prime condition: l Working from top to bottom, liberally apply water to the vehicle body, wheel wells and underside of the vehicle t ...