Optimal use of the audio system
- Type A and B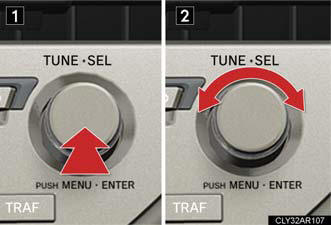 1. Displays the current mode.
2. Changes the following settings: • Sound quality and volume balance.
The sound quality and balance setting can be changed to produce the best sound.
• Automatic Sound Levelizer on/off.
- Type C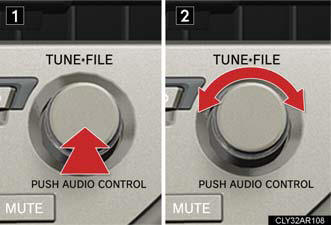 Adjusting sound quality and volume balance
Changing sound quality modes
Press

or


.

Pressing the button changes sound modes in the following order: "BAS"→"MID"→"TRE"→"FAD"→"BAL"→"ASL"
Adjusting sound quality
Turning

or


adjusts the level.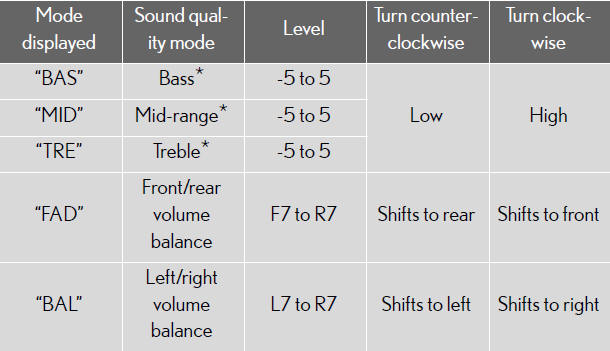 *: The sound quality level is adjusted individually in each audio mode.
Turning the Automatic Sound Levelizer (ASL) on/off
Turning

or


clockwise turns on the ASL, and
turning


or

counterclockwise turns off the
ASL.
ASL automatically adjusts the volume and tone quality according to the noise level as you drive your vehicle.
See also:
2005 Lexus GX 470 review
The workings of the GX470 leave me oh so tired. Maybe it's the woman in me, maybe it's the mom in me, but there's a lot about this SUV I don't get. The first thing that strikes my negative vibe is ...
Cigarette lighter
Push the back part of the lid to open, and push the cigarette lighter down. The cigarette lighter will pop up when it is ready for use. The cigarette lighter can be used when The "ENGINE START ...
If you lose your keys
New genuine Lexus keys can be made by your Lexus dealer using the other keys and the key number stamped on your key number plate. ...