Optimal use of the audio system
- Type A and B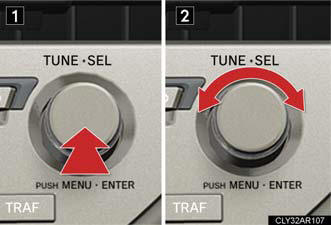 1. Displays the current mode.
2. Changes the following settings: • Sound quality and volume balance.
The sound quality and balance setting can be changed to produce the best sound.
• Automatic Sound Levelizer on/off.
- Type C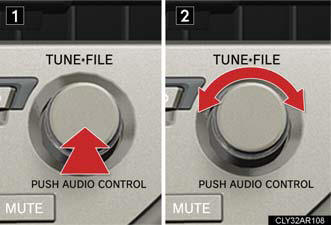 Adjusting sound quality and volume balance
Changing sound quality modes
Press

or


.

Pressing the button changes sound modes in the following order: "BAS"→"MID"→"TRE"→"FAD"→"BAL"→"ASL"
Adjusting sound quality
Turning

or


adjusts the level.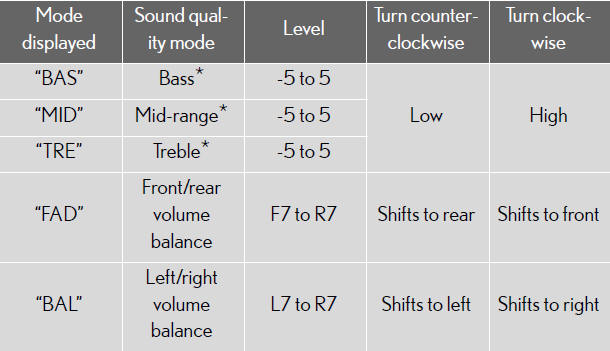 *: The sound quality level is adjusted individually in each audio mode.
Turning the Automatic Sound Levelizer (ASL) on/off
Turning

or


clockwise turns on the ASL, and
turning


or

counterclockwise turns off the
ASL.
ASL automatically adjusts the volume and tone quality according to the noise level as you drive your vehicle.
See also:
Light bulbs
You may replace the following bulbs yourself. For more information about replacing other light bulbs, contact your Lexus dealer. Prepare a replacement light bulb. Check the wattage of the light bul ...
Checking and replacing fuses
If any of the electrical components do not operate, a fuse may have blown. If this happens, check and replace the fuses as necessary. 1. Turn the "ENGINE START STOP" switch OFF. 2. Remove the engin ...
Hands-free system for mobile phones
The hands-free system is a function that allows you to use your mobile phone without touching it. This system supports Bluetooth® mobile phones. Bluetooth® is a wireless data system that allows the ...