Optimal use of the audio system
- Type A and B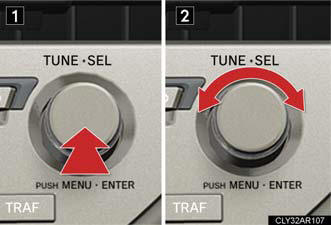 1. Displays the current mode.
2. Changes the following settings: • Sound quality and volume balance.
The sound quality and balance setting can be changed to produce the best sound.
• Automatic Sound Levelizer on/off.
- Type C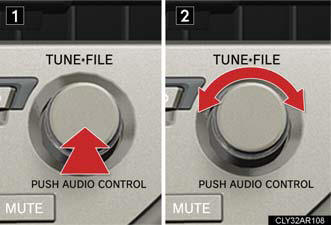 Adjusting sound quality and volume balance
Changing sound quality modes
Press

or


.

Pressing the button changes sound modes in the following order: "BAS"→"MID"→"TRE"→"FAD"→"BAL"→"ASL"
Adjusting sound quality
Turning

or


adjusts the level.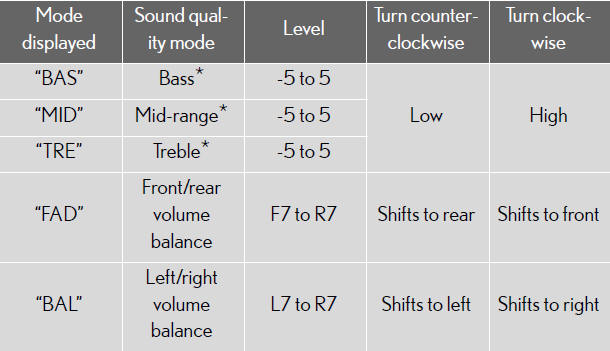 *: The sound quality level is adjusted individually in each audio mode.
Turning the Automatic Sound Levelizer (ASL) on/off
Turning

or


clockwise turns on the ASL, and
turning


or

counterclockwise turns off the
ASL.
ASL automatically adjusts the volume and tone quality according to the noise level as you drive your vehicle.
See also:
Event data recorder
Your vehicle has computers that monitor and control certain aspects of your vehicle. These computers assist in driving and maintaining optimal vehicle performance. Besides storing data useful for t ...
Pre-Collision System
When the radar sensor detects an unavoidable frontal collision, safety systems such as the brakes and seat belts are automatically engaged in an attempt to lessen vehicle damage. Pre-collision se ...
2010 Lexus GX 460
When the Lexus GX 460 showed up in my driveway, I almost discounted it immediately. It seemed like another honkin' big SUV that requires honkin' deep pockets to purchase; my test vehicle was price ...