Power windows
The power windows can be opened and closed using the switches.
Operating the switch moves the windows as follows: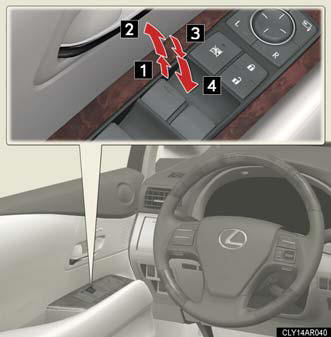 1. Closing.
2. One-touch closing*.
3. Opening.
4. One-touch opening*.
*:Pushing the switch in the opposite direction will stop window travel partway.
Window lock switch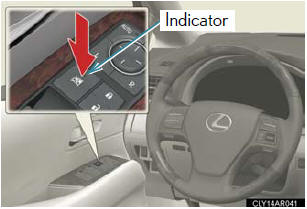 Press the switch to lock the passenger window switches.
The indicator will come on.
Use this switch to prevent children from accidentally opening or closing a passenger window.
The passenger windows can still be opened and closed using the power window switches on the driver's side even if the lock switch is on.
The power windows can be operated when
The "POWER" switch is in ON mode.
Operating the power windows after turning the hybrid system off
The power windows can be operated for approximately 45 seconds even after the "POWER" switch is turned to ACCESSORY mode or turned off. They cannot, however, be operated once either front door is opened.
Jam protection function
If an object becomes caught between the window and the window frame, window travel is stopped and the window is opened slightly.
Door lock linked window operation
The power windows can be opened and closed using the mechanical key.
The power windows can be opened using the wireless remote control if customized
at your Lexus dealer.
When the 12-volt battery is disconnected
The window lock switch is disabled. If necessary, press the window lock switch after
reconnecting the battery.
Customization
Settings (e.g. linked door lock operation) can be changed.
CAUTION:
Closing the windows
Observe the following precautions.
Failing to do so may result in death or serious injury.
Check to make sure that all passengers do not have any part of their body in a position where it could be caught when a window is being operated.
Do not allow children to operate the power windows.
Closing a power window on someone can cause serious injury, and in some instances, even death.
Jam protection function
Never use any part of your body to intentionally activate the jam protection function.
The jam protection function may not work if something gets caught just before the window fully closes. Also, the jam protection does not operate when the power window switch is pulled up continually to close the windows.
See also:
Garage door opener
The garage door opener can be programmed to operate garage doors, gates, entry doors, door locks, home lighting systems, security systems, and other devices. The garage door opener (HomeLink® Unive ...
Lexus Hybrid Drive Unique Energy Management System
Through the application of brand-specific engineering solutions and a unique energy management system incorporating bespoke software tuning, Lexus engineers have focused on enhancing both the envi ...
Handling, Braking & Ride Quality
If the CT stumbles in acceleration, it shines in handling. The steering wheel turns with a light touch at low speeds in Eco and Normal mode, but it wanders too much on the highway. Sport mode dial ...