Headlight aim (vehicles with discharge headlights)
Vertical movement adjusting bolts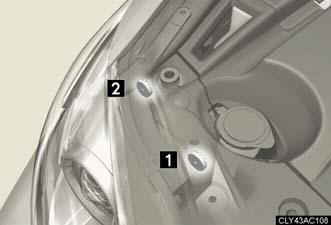 1. Adjustment bolt A.
2. Adjustment bolt B.
Before checking the headlight aim
1. Make sure the vehicle has a full tank of gas and the area around the headlight is not deformed.
2. Park the vehicle on level ground.
3. Sit in the driver's seat.
4. Bounce the vehicle several times.
Adjusting the headlight aim
Remove the engine compartment cover.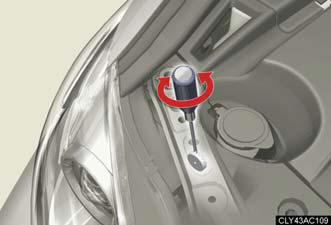 Turn bolt A in either direction using a Phillips-head screwdriver.
Remember the turning direction and the number of turns in mind.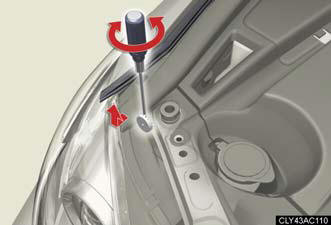 Turn bolt B the same number of turns and in the same direction as step 1 using a Phillips-head screwdriver.
If the error is over the value specified above, take the vehicle to your Lexus dealer to adjust the headlight aim.
See also:
Maintenance data (fuel, oil level, etc.)
Dimensions and weight *: Unladen vehicle Vehicle identification Vehicle identification The vehicle identification number (VIN) is the legal identifier for your vehicle. This is the primary iden ...
2010 Lexus RX 450h
There's no denying the charms of Lexus' redesigned RX crossover. It's extremely comfortable; it packs a sophisticated, upscale interior; and, in the hybrid version, it returns the mileage of a mid ...
Interior Design
The IS models' luxurious cabin features intelligently designed displays and controls that are easy to see and use. Bright, clear Optitron gauges and smartly integrated metallic trim, or available ...