Headlight aim (vehicles with discharge headlights)
Vertical movement adjusting bolts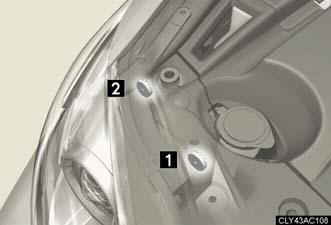 1. Adjustment bolt A.
2. Adjustment bolt B.
Before checking the headlight aim
1. Make sure the vehicle has a full tank of gas and the area around the headlight is not deformed.
2. Park the vehicle on level ground.
3. Sit in the driver's seat.
4. Bounce the vehicle several times.
Adjusting the headlight aim
Remove the engine compartment cover.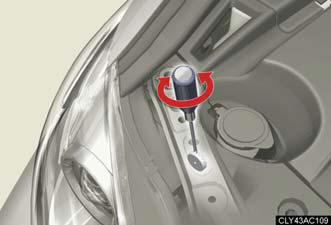 Turn bolt A in either direction using a Phillips-head screwdriver.
Remember the turning direction and the number of turns in mind.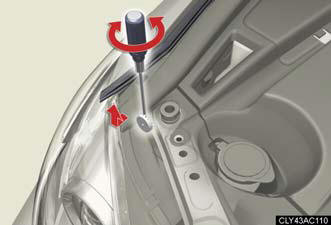 Turn bolt B the same number of turns and in the same direction as step 1 using a Phillips-head screwdriver.
If the error is over the value specified above, take the vehicle to your Lexus dealer to adjust the headlight aim.
See also:
Pre-Collision System
When the radar sensor detects an unavoidable frontal collision, safety systems such as the brakes and seat belts are automatically engaged in an attempt to lessen vehicle damage. Pre-collision se ...
Past Lexus GS 300 Models
Consumers shopping for a used Lexus GS 300 will come across plenty of examples from the second generation, sold from 1998-2005. Like the later version, it was a luxury sedan at heart and really wa ...
If the vehicle 12-volt battery is discharged
The following procedures may be used to start the hybrid system if the vehicle's 12-volt battery is discharged. You can also call your Lexus dealer or a qualified repair shop. If you have a set o ...