Air conditioning filter
The air conditioning filter must be cleaned or changed regularly to maintain
air conditioning efficiency.
Replacement method
1. Turn the "ENGINE START STOP" switch OFF.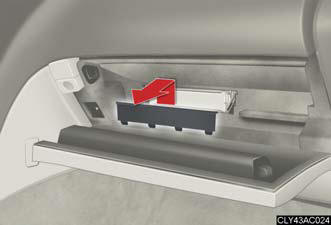 2. Open the glove box. Remove the glove box cover.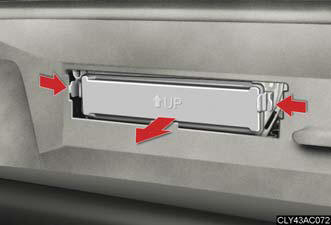 3. Remove the filter cover.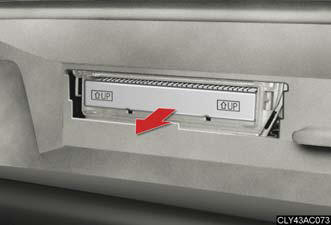 4. Remove the filter.
Be sure that the correct side of the filter faces up when installing it.
Cleaning method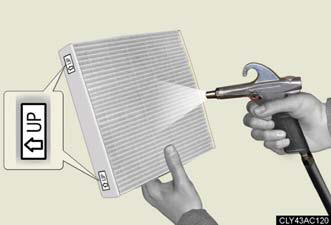 If the filter is dirty, clean by blowing compressed air through the filter from the downward side.
Hold the air gun 2 in. (5 cm) from the filter and blow for approximately 2 minutes at 72 psi (500 kPa, 5.0 kgf/cm2 or bar).
If it is not available, have the filter cleaned by your Lexus dealer.
Checking interval
Inspect, clean and replace the air conditioning filter according to the maintenance
schedule. In dusty areas or areas with heavy traffic flow, more frequent cleaning or
early replacement may be required. (For scheduled maintenance information, please refer to the "Warranty and Services Guide/Owner's Manual Supplement/ Scheduled Maintenance".)
If air flow from the vents decreases dramatically
The filter may be clogged. Check the filter and replace if necessary.
NOTICE:
To prevent damage to the system - When using the air conditioning system, make sure that a filter is always installed.
- When cleaning the filter, do not clean the filter with water.
See also:
Cargo and luggage
Take notice of the following information about storage precautions, cargo capacity and load. l Stow cargo and luggage in the luggage compartment whenever possible. Be sure all items are secured in ...
Optimal use of the audio system
- Type A and B 1. Displays the current mode. 2. Changes the following settings: • Sound quality and volume balance. The sound quality and balance setting can be changed to produce the best so ...
If your vehicle needs to be towed
If towing is necessary, we recommend having your vehicle towed by your Lexus dealer or a commercial towing service, using a lift-type truck or a flatbed truck. Use a safety chain system for all tow ...