Positioning a floor jack
When raising your vehicle with a floor jack, position the jack correctly.
Improper placement may damage your vehicle or cause injury.
Front

Rear

CAUTION:
When raising your vehicle: Make sure to observe the following to reduce the possibility of death or serious injury.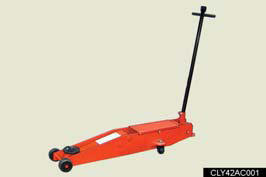 Lift up the vehicle using a floor jack such as the one shown in the illustration.
When using a floor jack, follow the instructions of the manual provided with the jack.
- Do not use the jack that was supplied with your vehicle.
- Do not put any part of your body or get underneath the vehicle supported only by
the floor jack.
Always use floor jack and/or automotive jack stands on a solid, flat, level surface.
- Do not start the engine while the vehicle is supported by the floor jack.
- Stop the vehicle on level firm ground, firmly set the parking brake and put the shift
lever in P.
- Make sure to set the floor jack properly at the jack point.
Raising the vehicle with an improperly positioned floor jack will damage the vehicle
and may cause the vehicle to fall off the floor jack.
- Do not raise the vehicle while someone is in the vehicle.
- When raising the vehicle, do not place any objects on top of or underneath the floor jack.
See also:
Headlight aim
Vertical movement adjusting bolts - Vehicles with discharge headlights 1. Adjustment bolt A. 2. Adjustment bolt B. - Vehicles with LED headlights 1. Adjustment bolt A. 2. Adjustment bolt B. ...
Engine compartment
1. Brake fluid reservoir. 2. Engine oil filler cap. 3. Engine oil level dipstick. 4. Power control unit coolant reservoir. 5. Fuse boxes. 6. Engine coolant reservoir. 7. Radiator. 8. Conden ...
2011 Lexus RX 350 Review
The luxury market is a diverse one. Some buyers expect a car that's fast but also has a pretty interior. Others want a boulevard cruiser so they can tool down the road in a mobile living room. The ...