Cigarette lighter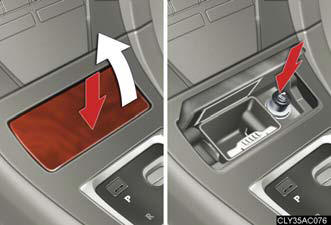 Push the back part of the lid to open, and push the cigarette lighter down.
The cigarette lighter will pop up when it is ready for use.
The cigarette lighter can be used when
The "ENGINE START STOP" switch is in ACCESSORY or IGNITION ON mode.
CAUTION:
To avoid burns or fires
- Do not touch the metal parts of the cigarette lighter.
- Do not hold the cigarette lighter down. It could overheat and cause a fire.
- Do not insert anything other than the cigarette lighter into the outlet.
See also:
Review: 2011 Lexus GS 460
Like that pesky honor student who always sat in the front row, was first to raise his or her hand to answer a question and never seemed to score below an A on an exam, Lexus has managed to become ...
2011 Lexus RX 350 Review
The luxury market is a diverse one. Some buyers expect a car that's fast but also has a pretty interior. Others want a boulevard cruiser so they can tool down the road in a mobile living room. The ...
Making a phone call
Making a phone call Dialing by inputting a number "Dial by number". Dialing by inputting a name "Dial by name". Speed dialing. Dialing a number stored in the outgoing history memory "Redial". ...