Dinghy towing
Your vehicle is not designed to be dinghy towed (with 4 wheels on the ground) behind a motor home.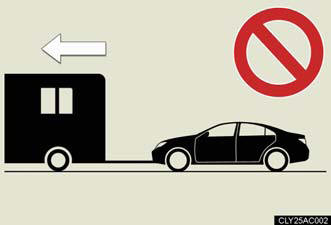 NOTICE:
To avoid serious damage to your vehicle Do not tow your vehicle with four wheels on the ground.
See also:
Chassis/Body/Suspension/Tires/Brakes
The Lexus GS combines proven chassis systems with advanced dynamic handling technology to provide both agile handling and the Lexus trademark smooth ride. The double-wishbone front suspension and ...
Seat belt instructions for Canadian owners (in French)
The following is a French explanation of seat belt instructions extracted from the seat belt section in this manual. See the seat belt section for more detailed seat belt instructions in English. ...
Current Lexus LS 460
The Lexus LS 460 is a full-size luxury sedan available in regular 460 and extended-wheelbase 460 L body styles. Most of the features you'd expect in this upper echelon of automobiles can be found ...