Anti-glare inside rear view mirror
In AUTO mode, sensors are used to detect the headlights of vehicles behind and automatically reduces the reflected light.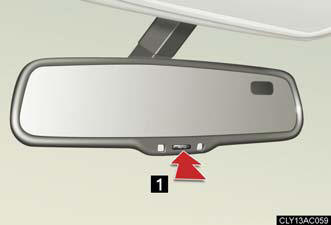 1. Turns AUTO mode ON/OFF The indicator comes on when AUTO mode is turned ON.
The anti-glare mirror default mode is AUTO. The anti-glare mirror is automatically set to AUTO whenever the "ENGINE START STOP" switch is turned on.
To prevent sensor error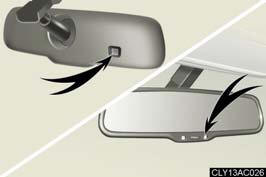 To ensure that the sensors operate properly, do not touch or cover it.
CAUTION:
Caution while driving
Do not adjust the position of the mirror while driving.
Doing so may lead to mishandling of the vehicle and an accident, resulting in death
or serious injury.
See also:
Vehicle load limits
Vehicle load limits include total load capacity, seating capacity, towing capacity and cargo capacity. Total load capacity: 825 lb. (370 kg) Total load capacity means the combined weight of occupan ...
Seat belts
Make sure that all occupants are wearing their seat belts before driving the vehicle. Correct use of the seat belts Extend the shoulder belt so that it comes fully over the shoulder, but does ...
Review: 2009 Lexus ES 350
In the early days of Toyota's luxury brand, Lexus – think back about 20 years – the automaker was criticized for essentially imitating established German and American brands. Fast forward to today ...