Anti-glare inside rear view mirror
In AUTO mode, sensors are used to detect the headlights of vehicles behind and automatically reduces the reflected light.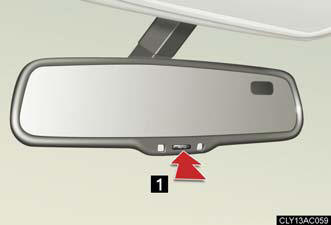 1. Turns AUTO mode ON/OFF The indicator comes on when AUTO mode is turned ON.
The anti-glare mirror default mode is AUTO. The anti-glare mirror is automatically set to AUTO whenever the "ENGINE START STOP" switch is turned on.
To prevent sensor error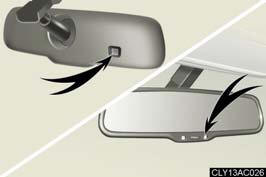 To ensure that the sensors operate properly, do not touch or cover it.
CAUTION:
Caution while driving
Do not adjust the position of the mirror while driving.
Doing so may lead to mishandling of the vehicle and an accident, resulting in death
or serious injury.
See also:
What's it look like?
The current GS continues the theme introduced more than a decade ago with Lexus' subtle-but-shapely original GS 300. A bulbous greenhouse and tall tail give it a more distinctly recognizable desig ...
Coat hooks
Pull out the hooks to hang coats or other soft items. CAUTION: Items that must not be hung on the hook Do not hang a coat hanger or other hard or sharp object on the hook. If the SRS curtain shi ...
Steering wheel
The steering wheel can be adjusted to a comfortable position. Operating the switch moves the steering wheel in the following directions: 1. Up. 2. Down. 3. Away from the driver. 4. Toward the d ...