Alarm
The system sounds the alarm and flashes the lights when forcible entry is detected.
Triggering of the alarm
The alarm is triggered in the following situations: A locked door is unlocked or opened in any way other than using the entry function, wireless remote control or mechanical key with the alarm being set.
The hood is opened with the alarm being set.
Setting the alarm system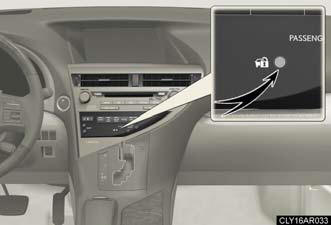 Close the doors and hood, and lock all the doors.
The system will be set automatically after 30 seconds.
The indicator light changes from being on to flashing when the system is set.
Deactivating or stopping the alarm
Do one of the following to deactivate or stop the alarms: Unlock the doors.
Start the hybrid system. (The alarm will be deactivated or stopped after a few seconds.)
Items to check before locking the vehicle
To prevent unexpected triggering of the alarm and vehicle theft, make sure of the
following:
Nobody is in the vehicle.
The windows and moon roof are closed before the alarm is set.
No valuables or other personal items are left in the vehicle.
Triggering of the alarm
The alarm may be triggered in the following situations: (Stopping the alarm deactivates the alarm system.) A person inside the vehicle opens a door or the hood.
The 12-volt battery is recharged or replaced when the vehicle is locked.
NOTICE:
To ensure the system correctly Do not modify and remove the system. If modified or removed, the proper operation
of the system cannot be guaranteed.
See also:
Theft prevention labels (for U.S.A.)
These labels are attached to the vehicle to reduce vehicle theft by facilitating the tracing and recovery of parts from stolen vehicles. Do not remove under penalty of law. ...
2009 Lexus GX 470 review
Maybe I'm spoiled, but I like nice things. I especially like nice cars with rich leather seats, premium sound systems, powerful engines and super-cool features. These are some of the things that m ...
Safety
Packed with 10 airbags and the requisite safety features found in luxury cars these days, the 2010 RX was named a Top Safety Pick by the Insurance Institute for Highway Safety in 2009. For 2010, t ...