Seat belt instructions for Canadian owners (in French)
The following is a French explanation of seat belt instructions extracted from the seat belt section in this manual.
See the seat belt section for more detailed seat belt instructions in English.
Utilisation correcte des ceintures de sécurité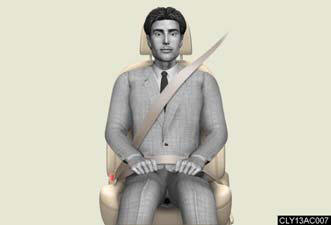 Déroulez la sangle diagonale de
telle sorte qu'elle passe bien sur l'épaule, sans pour autant être en contact avec votre cou ou glisser de votre épaule.

Placez la sangle abdominale le
plus bas possible sur les hanches.

Réglez la position du dossier de
siège. Asseyez-vous le dos le plus droit possible et calez-vous bien dans le siège.

Ne vrillez pas la ceinture de
sécurité.
Guide de confort de ceinture de sécurité (sièges arrière extérieurs)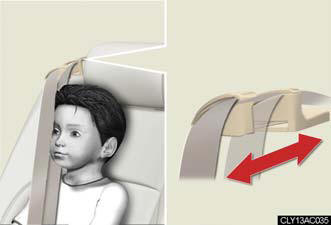 Si la sangle diagonale est proche du cou de la personne, faites coulisser le guide de confort de ceinture de sécurité vers l'avant.
Entretien et soin
Ceintures de sécurité
Nettoyez avec un chiffon ou une éponge humectée d'eau savonneuse tiède.
Profitez de l'occasion pour vérifier régulièrement que les ceintures ne sont pas effilochées, entaillées, ou ne paraissent pas exagérément usées.
ATTENTION:
- Détérioration et usure des ceintures de sécurité Inspectez les ceintures de sécurité périodiquement. Contrôlez qu'elles ne sont pas
entaillées, effilochées, et que leurs ancrages ne sont pas desserrés. N'utilisez pas
une ceinture de sécurité défectueuse avant qu'elle ne soit remplacée. Une ceinture
de sécurité défectueuse n'apporte aucune garantie de protection de l'occupant en cas d'accident.
See also:
XM - Beyond Radio
Lexus Enform vehicles are factory ready for subscriptions to a variety of innovative XM services. Lexus Enform vehicles feature XM NavTraffic® and XM NavWeather™ services. XM NavTraffic informs th ...
Under the Hood
The LX 570 is named after its 5.7-liter V-8 engine, which adds more than 100 horsepower to this model for a total of 383 hp. The torque rating exceeds 400 pounds-feet. The transmission is a new si ...
Windshield wiper de-icer
This feature is used to prevent ice from building up on the windshield and wiper blades. - Vehicles with a navigation system. Owners of models equipped with a navigation system should refer to the ...