If your vehicle has to be stopped in an emergency
Only in an emergency, such as if it becomes impossible to stop the vehicle in the normal way, stop the vehicle using the following procedure:
1. Steadily step on the brake pedal with both feet and firmly depress it.
Do not pump the brake pedal repeatedly as this will increase the effort required to slow the vehicle.
2. Shift the shift lever to N.

If the shift lever is shifted to N
3. After slowing down, stop the vehicle in a safe place by the road.
4. Stop the engine.

If the shift lever cannot be
shifted to N
3. Keep depressing the brake pedal with both feet to reduce vehicle speed as much as possible.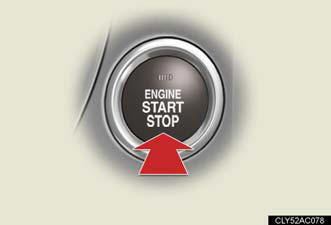 4. Stop the engine by pressing and holding the "ENGINE START STOP" switch for 3 consecutive seconds or more.
5. Stop the vehicle in a safe place by the road.
CAUTION:
If the engine has to be turned off while driving - Power assist for the brakes and steering wheel will be lost, making the brake pedal harder to depress and the steering wheel heavier to turn. Decelerate as much as possible before turning off the engine.
See also:
Cleaning and protecting the vehicle exterior
Perform the following to protect the vehicle and maintain it in prime condition: l Working from top to bottom, liberally apply water to the vehicle body, wheel wells and underside of the vehicle t ...
Items to initialize
The following items must be initialized for normal system operation in cases such as after the 12-volt battery is reconnected, or maintenance is performed on the vehicle. ...
Emergency flashers
Use the emergency flashers if the vehicle malfunctions or is involved in an accident. Without navigation system Press the switch to flash all the turn signal lights. To turn them off, press t ...