Floor mat
Securely place a mat that matches the size of the space on the carpet.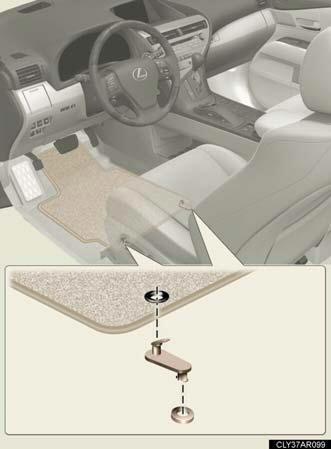 Secure the floor mat using the hooks provided.
CAUTION:
When inserting the floor mat Observe the following precautions.
Failure to do so may result in the floor mat slipping and interfering with the movement
of the pedals during driving, resulting in an accident.
Make sure the floor mat is properly placed on the vehicle carpet and the correct
side faces upward.
Do not place floor mats on top of existing mats.
See also:
Auxiliary boxes
- Overhead Press in the lid. This box is useful for temporarily storing sunglasses and similar small items. - Rear seat (if equipped) Pull down the armrest. Pull up ...
Indicators and warning lights
The indicator and warning lights on the instrument cluster and center panel inform the driver of the status of the vehicle's various systems. - Instrument cluster. - Center panel (without a navig ...
Side doors
The vehicle can be locked and unlocked using the entry function, wireless remote control or door lock switches. Door lock switches 1. Locks all the doors. 2. Unlocks all the doors. Inside lock ...