Floor mat
Securely place a mat that matches the size of the space on the carpet.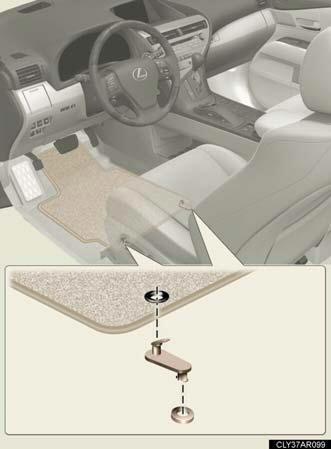 Secure the floor mat using the hooks provided.
CAUTION:
When inserting the floor mat Observe the following precautions.
Failure to do so may result in the floor mat slipping and interfering with the movement
of the pedals during driving, resulting in an accident.
Make sure the floor mat is properly placed on the vehicle carpet and the correct
side faces upward.
Do not place floor mats on top of existing mats.
See also:
Performance
Review-OnRoad You need to work the 2.5-litre V6 petrol engine hard to extract maximum performance, but it pulls cleanly from low revs and is punchy enough for assured overtaking. Similarly, the di ...
What is it?
Yes, itТs based on the same platform as the Toyota Camry. But so are the RX and ToyotaТs Sienna minivan Ц and they donТt exactly look or feel like a Camry. So, too, is the ES 350 quite a bit diff ...
Interior Design
Built on a 109.3-inch wheelbase, the midsize Lexus ES 350 provides a roomy and inviting interior. The driver and passengers are treated to intelligent, elegant luxury, with touch points that conve ...