Floor mat
Securely place a mat that matches the size of the space on the carpet.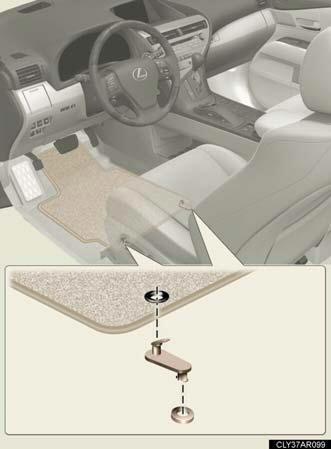 Secure the floor mat using the hooks provided.
CAUTION:
When inserting the floor mat Observe the following precautions.
Failure to do so may result in the floor mat slipping and interfering with the movement
of the pedals during driving, resulting in an accident.
Make sure the floor mat is properly placed on the vehicle carpet and the correct
side faces upward.
Do not place floor mats on top of existing mats.
See also:
Theft prevention labels (for U.S.A.)
These labels are attached to the vehicle to reduce vehicle theft by facilitating the tracing and recovery of parts from stolen vehicles. Do not remove under penalty of law. ...
If you lose your keys
New genuine Lexus keys can be made by your Lexus dealer using the other key and the key number stamped on your key number plate. ...
Emission inspection and maintenance (I/M) programs
Some states have vehicle emission inspection programs which include OBD (On Board Diagnostics) checks. The OBD system monitors the operation of the emission control system. If the malfunction indic ...