Using the AUX adapter
This adapter can be used to connect a portable audio device and listen to it
through the vehicle's speakers.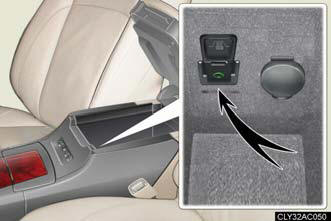 Connect the portable audio device.
Press

.
Operating portable audio devices connected to the audio system
The volume can be adjusted using the vehicle's audio controls. All other adjustments
must be made on the portable audio device itself.
When using a portable audio device connected to the power outlet
Noise may occur during playback. Use the power source of the portable audio device.
See also:
Event data recorder
Your vehicle has computers that monitor and control certain aspects of your vehicle. These computers assist in driving and maintaining optimal vehicle performance. Besides storing data useful for t ...
Using the CD player
Loading CDs Loading a CD 1. Press . "WAIT" is shown on the display. 2. When the indicator on the slot turns from amber to green, insert a CD. The display changes from "WAIT" to "LOAD". Loadin ...
Other Cars to Consider
While the Lexus IS is the sportier of the two midsize cars Lexus makes,if you're looking for a car that will eat up windy roads, there are better options out there. The BMW 3-Series gives buyers s ...