Gauges and meters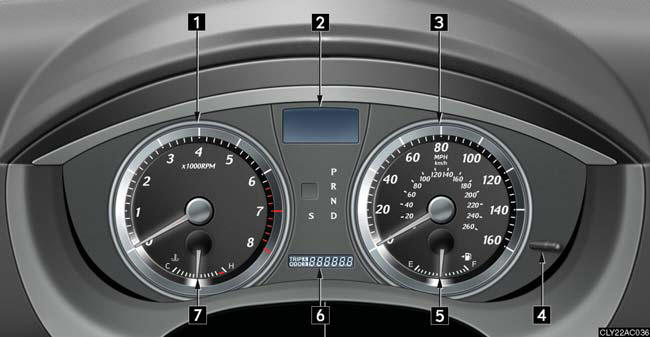 The units used on the speedometer and the tachometer gauge display may differ depending on the model/type.
The following gauges, meters and display illuminate when the УENGINE START STOPФ switch is in IGNITION ON mode.
1. Tachometer.
Displays the engine speed in revolutions per minute.
2. Multi-information display.
3. Speedometer.
Displays the vehicle speed.
4. Odometer/trip meter and trip meter reset button.
Switches between odometer and trip meter displays. Pushing and holding the button will reset the trip meter when the trip meter is being displayed.
5. Fuel gauge.
Displays the quantity of fuel remaining in the tank.
6. Odometer and trip meter.
- Odometer.
Displays the total distance the vehicle has been driven.
- Trip meter.
Displays the distance the vehicle has been driven since the meter was last reset. Trip meters A and B can be used to record and display different distances independently.
7. Engine coolant temperature gauge.
Displays the engine coolant temperature.
Instrument panel light control
The brightness of the instrument panel lights can be adjusted.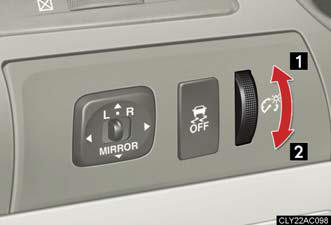 1. Brighter.
2. Darker.
When the headlight switch is turned to ON, the brightness will be reduced slightly unless the control dial is turned fully up.
NOTICE:
To prevent damage to the engine and its components - Do not let the indicator needle of the tachometer enter the red zone, which indicates
the maximum engine speed.
- The engine may be overheating if the temperature gauge is in the red zone (H). In
this case, immediately stop the vehicle in a safe place, and check the engine after
it has cooled completely.
See also:
Cup holders
- Front (type A) Press down and release the right side of the cup holder lid. - Front (type B) Press in and release the cup holder. - Rear Press down the button on t ...
Keys
The following keys are provided with the vehicle. 1. Electronic keys Х Operating the smart access system with push-button start. Х Operating the wireless remote control function. 2. Mechanical ...
2011 Lexus CT 200h review By Scott Burgess
Americans love hybrid hatchbacks, but mostly for the hybrid part; overall, we're still lukewarm on traditional hatchbacks. Lexus added a third ingredient Ч budget luxury Ч to create the CT 200h. W ...