Headlight aim (vehicles with discharge headlights)
Vertical movement adjusting bolts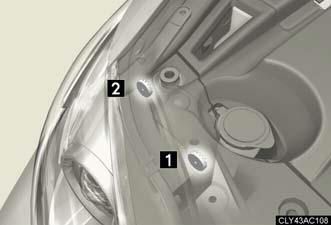 1. Adjustment bolt A.
2. Adjustment bolt B.
Before checking the headlight aim
1. Make sure the vehicle has a full tank of gas and the area around the headlight is not deformed.
2. Park the vehicle on level ground.
3. Sit in the driver's seat.
4. Bounce the vehicle several times.
Adjusting the headlight aim
Remove the engine compartment cover.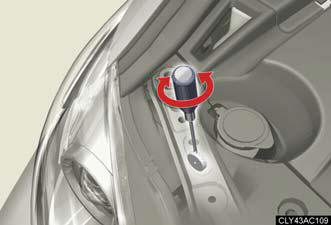 Turn bolt A in either direction using a Phillips-head screwdriver.
Remember the turning direction and the number of turns in mind.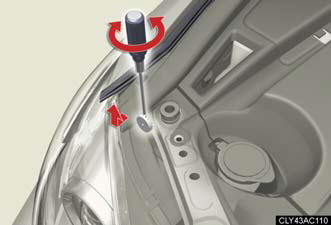 Turn bolt B the same number of turns and in the same direction as step 1 using a Phillips-head screwdriver.
If the error is over the value specified above, take the vehicle to your Lexus dealer to adjust the headlight aim.
See also:
Cleaning and protecting the vehicle exterior
Perform the following to protect the vehicle and maintain it in prime condition. Working from top to bottom, liberally apply water to the vehicle body, wheel wells and underside of the vehicle to ...
Setting a mobile phone
Registering a mobile phone in the hands-free phone system allows the system to function. The following functions can be used for registered mobile phones: Functions and operation procedures To e ...
Automatic Transmission
Select a shift position appropriate for the driving conditions. Shifting the shift lever While the "ENGINE START STOP" switch is in IGNITION ON mode, depress the brake pedal and move the shift ...