Headlight aim (vehicles with discharge headlights)
Vertical movement adjusting bolts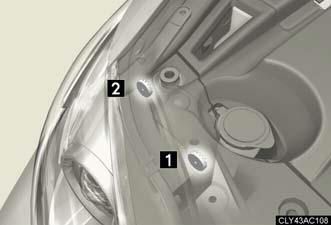 1. Adjustment bolt A.
2. Adjustment bolt B.
Before checking the headlight aim
1. Make sure the vehicle has a full tank of gas and the area around the headlight is not deformed.
2. Park the vehicle on level ground.
3. Sit in the driver's seat.
4. Bounce the vehicle several times.
Adjusting the headlight aim
Remove the engine compartment cover.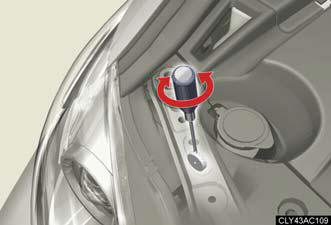 Turn bolt A in either direction using a Phillips-head screwdriver.
Remember the turning direction and the number of turns in mind.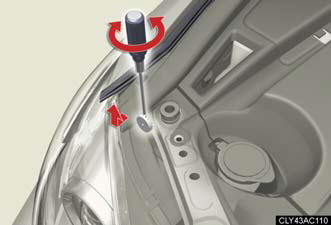 Turn bolt B the same number of turns and in the same direction as step 1 using a Phillips-head screwdriver.
If the error is over the value specified above, take the vehicle to your Lexus dealer to adjust the headlight aim.
See also:
2007 Lexus LS 460L
The Lexus LS 460L is the best car we've seen. We can't put it any more bluntly than that. It checks off all the tech boxes, then goes and adds some new ones. The company's flagship sedan is a geni ...
What is it?
Now nearing the end of its third generation, the GS slots in above the sporty IS and below the luxury-laden LS. It's sized about like the tremendously popular ES 350, but the GS offers rear-wheel- ...
If a warning light turns on or a warning buzzer sounds...
Calmly perform the following actions if any of the warning lights turn on or flash. If a light turns on or flashes, but then turns off, this does not necessarily indicate a malfunction in the sy ...