Headlight aim (vehicles with discharge headlights)
Vertical movement adjusting bolts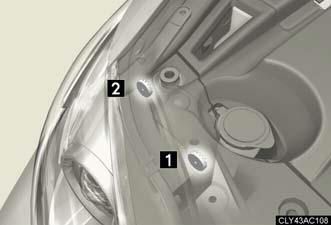 1. Adjustment bolt A.
2. Adjustment bolt B.
Before checking the headlight aim
1. Make sure the vehicle has a full tank of gas and the area around the headlight is not deformed.
2. Park the vehicle on level ground.
3. Sit in the driver's seat.
4. Bounce the vehicle several times.
Adjusting the headlight aim
Remove the engine compartment cover.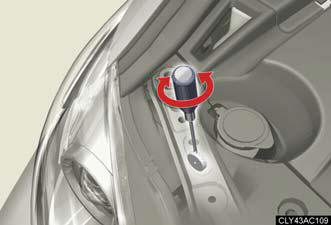 Turn bolt A in either direction using a Phillips-head screwdriver.
Remember the turning direction and the number of turns in mind.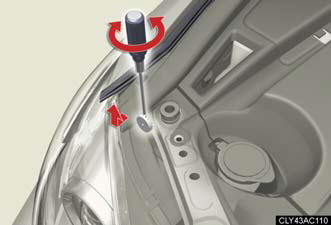 Turn bolt B the same number of turns and in the same direction as step 1 using a Phillips-head screwdriver.
If the error is over the value specified above, take the vehicle to your Lexus dealer to adjust the headlight aim.
See also:
Driving assist systems
To help enhance driving safety and performance, the following systems operate automatically in response to various driving situations. Be aware, however, that these systems are supplementary and sho ...
Overview
The 2010 Lexus GS 350 and Lexus GS 460 deliver a unique combination of luxury and sport performance to the Lexus vehicle lineup. Several technology enhancements continue to keep GS models at the t ...
Tire information
Typical tire symbols Standard tire Compact spare tire 1. Tire size. 2. DOT and Tire Identification Number (TIN). 3. Location of treadwear indicators. 4. Tire ply composition and materials. ...