Headlight aim (vehicles with discharge headlights)
Vertical movement adjusting bolts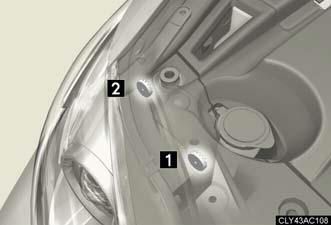 1. Adjustment bolt A.
2. Adjustment bolt B.
Before checking the headlight aim
1. Make sure the vehicle has a full tank of gas and the area around the headlight is not deformed.
2. Park the vehicle on level ground.
3. Sit in the driver's seat.
4. Bounce the vehicle several times.
Adjusting the headlight aim
Remove the engine compartment cover.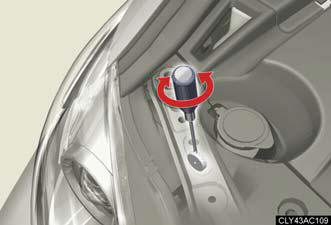 Turn bolt A in either direction using a Phillips-head screwdriver.
Remember the turning direction and the number of turns in mind.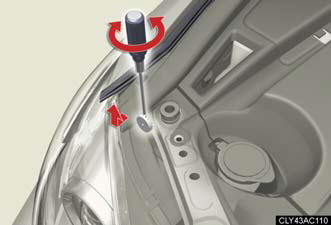 Turn bolt B the same number of turns and in the same direction as step 1 using a Phillips-head screwdriver.
If the error is over the value specified above, take the vehicle to your Lexus dealer to adjust the headlight aim.
See also:
Driving Impressions
The first thing that struck me about the RX 350 was how light and precise the steering is; it's easy to handle the RX in a parking garage or any tight space. That's not impressive in itself, but t ...
Engine compartment
1. Power steering fluid reservoir. 2. Engine oil filler cap. 3. Engine oil level dipstick. 4. Brake fluid reservoir. 5. Battery. 6. Fuse box. 7. Electric cooling fans. 8. Condenser. 9. Radia ...
Winter driving tips
Carry out the necessary preparations and inspections before driving the vehicle in winter. Always drive the vehicle in a manner appropriate to the prevailing weather conditions. Pre-winter preparat ...