Headlight aim (vehicles with discharge headlights)
Vertical movement adjusting bolts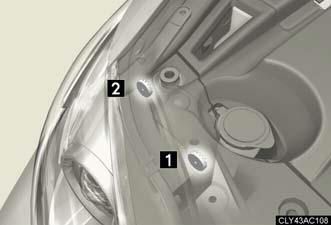 1. Adjustment bolt A.
2. Adjustment bolt B.
Before checking the headlight aim
1. Make sure the vehicle has a full tank of gas and the area around the headlight is not deformed.
2. Park the vehicle on level ground.
3. Sit in the driver's seat.
4. Bounce the vehicle several times.
Adjusting the headlight aim
Remove the engine compartment cover.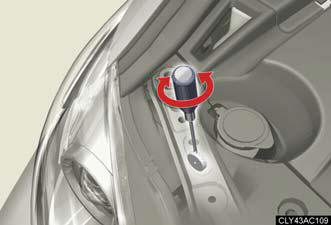 Turn bolt A in either direction using a Phillips-head screwdriver.
Remember the turning direction and the number of turns in mind.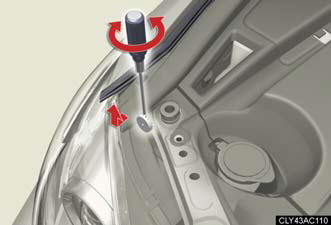 Turn bolt B the same number of turns and in the same direction as step 1 using a Phillips-head screwdriver.
If the error is over the value specified above, take the vehicle to your Lexus dealer to adjust the headlight aim.
See also:
2009 Lexus GX 470 review
Maybe I'm spoiled, but I like nice things. I especially like nice cars with rich leather seats, premium sound systems, powerful engines and super-cool features. These are some of the things that m ...
2010 Lexus GX 460 review
During my test of the 2010 Lexus GX 460, I was routinely asked what I was driving. The only way I could get the questioners to grasp how the GX 460 stands out in Lexus' lineup was to tell them it ...
2010 Lexus LX 570 review
The 2010 Lexus LX 570 is a vehicle of extremes. It's the biggest Lexus on the road, and it has a massive V-8 engine to go with it. It also has tons of cupholders, stereo speakers, air vents, ride- ...