Headlight aim (vehicles with discharge headlights)
Vertical movement adjusting bolts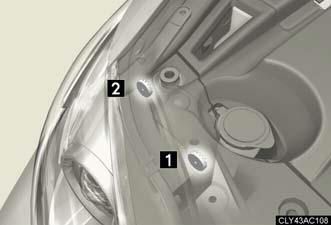 1. Adjustment bolt A.
2. Adjustment bolt B.
Before checking the headlight aim
1. Make sure the vehicle has a full tank of gas and the area around the headlight is not deformed.
2. Park the vehicle on level ground.
3. Sit in the driver's seat.
4. Bounce the vehicle several times.
Adjusting the headlight aim
Remove the engine compartment cover.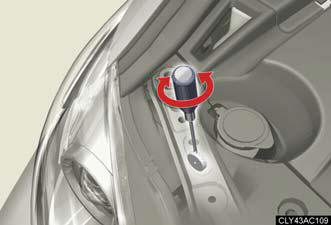 Turn bolt A in either direction using a Phillips-head screwdriver.
Remember the turning direction and the number of turns in mind.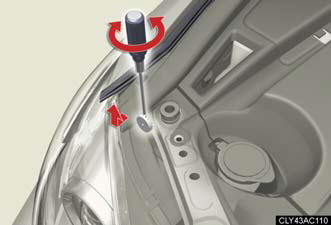 Turn bolt B the same number of turns and in the same direction as step 1 using a Phillips-head screwdriver.
If the error is over the value specified above, take the vehicle to your Lexus dealer to adjust the headlight aim.
See also:
Interior
Where the RX really shines is in the cabin. The base RX 350 has a terrifically upscale interior for $37,250. Even at the hybrid's starting price of $42,110, it seems lush and well worth the money. ...
Exterior Design
The current generation GS sedans introduced the brand's L-finesse design language. A 112.2-inch wheelbase, long hood, pulled-back cabin and short rear deck create a confident, powerful stance for ...
Light bulbs
You may replace the following bulbs by yourself. The difficulty level of replacement varies depending on the bulb. If necessary bulb replacement seems difficult to perform, contact your Lexus dealer ...