Anti-glare inside rear view mirror
In AUTO mode, sensors are used to detect the headlights of vehicles behind and automatically reduces the reflected light.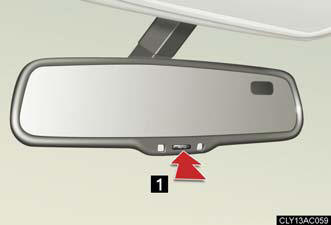 1. Turns AUTO mode ON/OFF The indicator comes on when AUTO mode is turned ON.
The anti-glare mirror default mode is AUTO. The anti-glare mirror is automatically set to AUTO whenever the "ENGINE START STOP" switch is turned on.
To prevent sensor error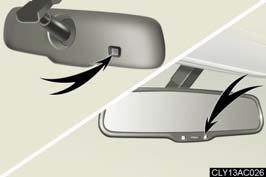 To ensure that the sensors operate properly, do not touch or cover it.
CAUTION:
Caution while driving
Do not adjust the position of the mirror while driving.
Doing so may lead to mishandling of the vehicle and an accident, resulting in death
or serious injury.
See also:
Interior Design
The 2010 Lexus GX 460 provides the luxury appointments and workmanship of a Lexus sedan. Reduced drivetrain noise, especially in the 3,000-4,000 rpm range, combined with new sound insulating, damp ...
Maintenance data (fuel, oil level, etc.)
Dimensions and weight *: Unladen vehicle Vehicle identification Vehicle identification The vehicle identification number (VIN) is the legal identifier for your vehicle. This is the primary iden ...
What's it up against?
Equipped with a V8 engine, the GS' biggest traditional rivals come from Germany – namely the BMW 550i and Mercedes-Benz E550. But can-do home-market competitor Infiniti's new M56 presents serious ...