Anti-glare inside rear view mirror
In AUTO mode, sensors are used to detect the headlights of vehicles behind and automatically reduces the reflected light.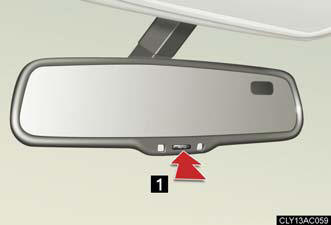 1. Turns AUTO mode ON/OFF The indicator comes on when AUTO mode is turned ON.
The anti-glare mirror default mode is AUTO. The anti-glare mirror is automatically set to AUTO whenever the "ENGINE START STOP" switch is turned on.
To prevent sensor error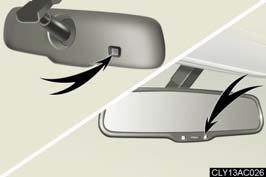 To ensure that the sensors operate properly, do not touch or cover it.
CAUTION:
Caution while driving
Do not adjust the position of the mirror while driving.
Doing so may lead to mishandling of the vehicle and an accident, resulting in death
or serious injury.
See also:
Features
While the RX 450h is reasonably priced to start at $42,110, adding options quickly ratchets up the sticker price. Items you might find standard on other cars in this class, like those heated and c ...
Current Lexus ES 350
The current Lexus ES 350 shares its basic architecture and major mechanicals with the Toyota Camry. Exterior panels and interior furnishings are unique, though, and the Lexus sedan gets a bit more ...
RX 450h in the Market
I've personally never understood car shoppers' desire to get a hybrid version of a luxury car or SUV, even if the mileage gains are significant, as they are in the RX; these buyers can afford more ...