Anti-glare inside rear view mirror
In AUTO mode, sensors are used to detect the headlights of vehicles behind and automatically reduces the reflected light.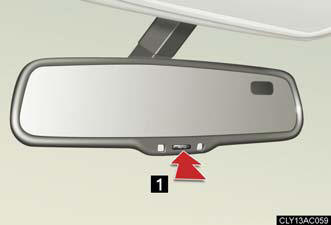 1. Turns AUTO mode ON/OFF The indicator comes on when AUTO mode is turned ON.
The anti-glare mirror default mode is AUTO. The anti-glare mirror is automatically set to AUTO whenever the "ENGINE START STOP" switch is turned on.
To prevent sensor error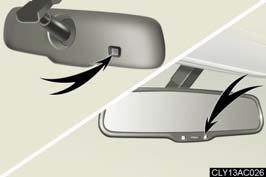 To ensure that the sensors operate properly, do not touch or cover it.
CAUTION:
Caution while driving
Do not adjust the position of the mirror while driving.
Doing so may lead to mishandling of the vehicle and an accident, resulting in death
or serious injury.
See also:
If a warning light turns on or a warning buzzer sounds...
Calmly perform the following actions if any of the warning lights turn on or flash. If a light turns on or flashes, but then turns off, this does not necessarily indicate a malfunction in the sy ...
Intuitive parking assist
The distance to obstacles measured by the sensors is communicated via the multi-information display and a buzzer when parallel parking or maneuvering into a garage. Always check the surrounding area w ...
Overview
The Lexus CT 200h marks the introduction of the first, and only, full hybrid vehicle to the core of the premium compact segment. Lexus' first ever compact, five-door car, the Lexus CT 200h full hy ...