Anti-glare inside rear view mirror
In AUTO mode, sensors are used to detect the headlights of vehicles behind and automatically reduces the reflected light.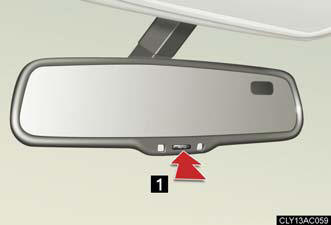 1. Turns AUTO mode ON/OFF The indicator comes on when AUTO mode is turned ON.
The anti-glare mirror default mode is AUTO. The anti-glare mirror is automatically set to AUTO whenever the "ENGINE START STOP" switch is turned on.
To prevent sensor error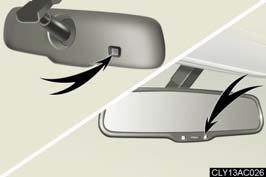 To ensure that the sensors operate properly, do not touch or cover it.
CAUTION:
Caution while driving
Do not adjust the position of the mirror while driving.
Doing so may lead to mishandling of the vehicle and an accident, resulting in death
or serious injury.
See also:
Current Lexus IS 250
Lexus sells the IS 250 in a single trim level, with either rear-wheel drive or all-wheel drive. For power, the 250 comes with a 2.5-liter V6 rated for 204 horsepower and 185 pound-feet of torque. ...
Correct driving posture
Drive in a good posture as follows: 1. Sit upright and well back in the seat. 2. Adjust the position of the seat forward or backward to ensure the pedals can be reached and easily depressed t ...
If your vehicle overheats
If your engine overheats: 1. Stop the vehicle in a safe place and turn off the automatic air conditioning system. 2. Check to see if steam is coming out from under the hood. If you see steam: Sto ...