Auxiliary boxes
- Overhead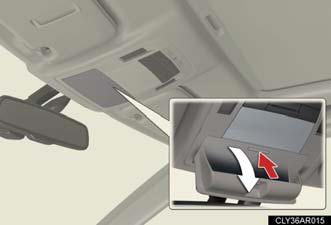 Press in the lid.
This box is useful for temporarily storing sunglasses and similar small items.
- Rear seat (if equipped)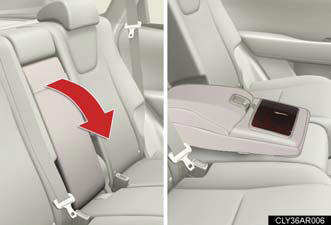 Pull down the armrest.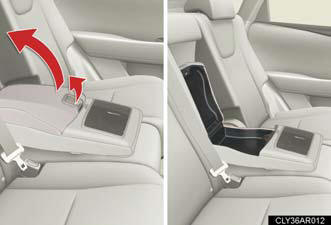 Pull up the lever to release the lock and lift the armrest.
CAUTION:
Items that should not be left in the auxiliary box (overhead type) Do not leave glasses or lighters in the box.
If the interior of the vehicle becomes hot, lighters may explode and glasses may warp or crack.
Caution while driving
Do not leave the auxiliary box open while driving.
Items stored in the auxiliary box may fall out and cause death or serious injury in
case of an accident or sudden stop.
See also:
Most recent Lexus GS 300
Last redesigned for 2006, the third-generation Lexus GS 300 lasted only one year, as Lexus installed a powerful new 3.5-liter V6 in its rear-drive midsize sedan the following year, prompting a nam ...
2011 Lexus IS review
The 2011 Lexus IS ranks 10 out of 21 Upscale Midsize Cars. This ranking is based on our analysis of 63 published reviews and test drives of the Lexus IS, and our analysis of reliability and safety ...
Safety
The SUV is available with the optional Pre-Collision System that detects impending collisions via radar and tightens seat belts before impact. Typically, these features activate along with the air ...