Air conditioning filter
The air conditioning filter must be cleaned or changed regularly to maintain
air conditioning efficiency.
Removal method
1. Set the air conditioning system to recirculated mode.
The air conditioning filter case cannot be removed with the system in the outside air mode.
2. Turn the "POWER" switch off.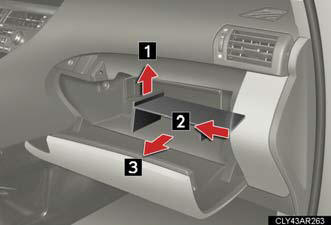 3. Open the glove box. Lift and remove the partition.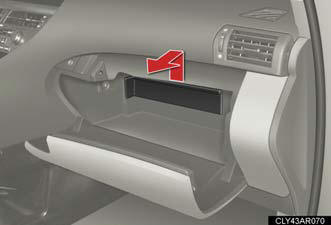 4. Remove the glove box cover.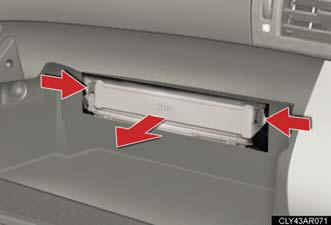 5. Remove the filter cover.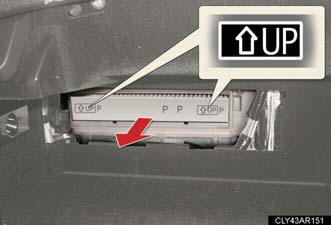 6. Remove the air conditioning filter and replace it with a new one.
The "↑UP" mark shown on the filter should be pointing up.
Cleaning method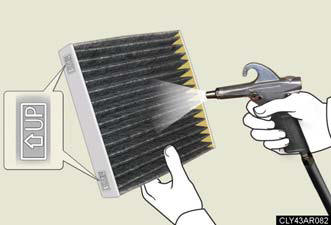 If the filter is dirty, clean by blowing compressed air through the filter from the underside.
Hold the air gun 2 in. (5 cm) from the filter and blow for approximately 2 minutes at 72 psi (500 kPa, 5.0 kgf/cm2 or bar).
If an air gun is not available, have the filter cleaned by your Lexus dealer.
Checking interval
Inspect, clean and replace the air conditioning filter according to the maintenance
schedule. In dusty areas or areas with heavy traffic flow, early replacement may be
required. (For scheduled maintenance information, please refer to the "Owner's Manual Supplement" or "Scheduled Maintenance".)
If air flow from the vents decreases dramatically
The filter may be clogged. Check the filter and replace if necessary.
NOTICE:
To prevent damage to the system When using the air conditioning system, make sure that a filter is always installed.
When cleaning the filter, do not clean with water.
See also:
Hybrid vehicle driving tips
For economical and ecological driving, pay attention to the following points: Use of the Hybrid System Indicator More fuel efficient driving is possible by keeping the indicate of the Hybrid Syste ...
Interior
Seating for five people is standard, but the GX 470 can seat up to eight occupants when equipped with an optional third-row seat. Standard features include dual-zone automatic climate control, lea ...
Driving Impressions
The pleasant, enjoyable GX 470 shines brightest when traveling off-road. Active TRAC stays quite busy when going uphill, while Downhill Assist Control is amazing. Unless you touch the gas or brake ...