Floor mat
Securely place a mat that matches the size of the space on the carpet.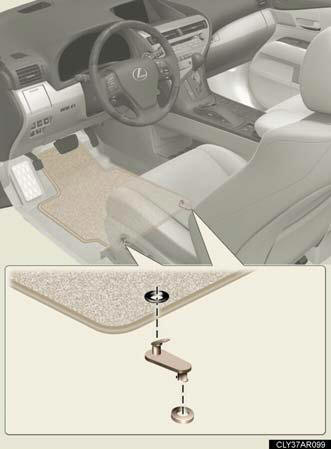 Secure the floor mat using the hooks provided.
CAUTION:
When inserting the floor mat Observe the following precautions.
Failure to do so may result in the floor mat slipping and interfering with the movement
of the pedals during driving, resulting in an accident.
Make sure the floor mat is properly placed on the vehicle carpet and the correct
side faces upward.
Do not place floor mats on top of existing mats.
See also:
2010 Lexus GX 460
When the Lexus GX 460 showed up in my driveway, I almost discounted it immediately. It seemed like another honkin' big SUV that requires honkin' deep pockets to purchase; my test vehicle was price ...
Luxury Options
The customer can "layer" luxury in the Lexus ES 350 by adding the Ultra-Luxury Package, or by selecting from a number of standalone options which include heated and ventilated front seat ...
Dinghy towing
Your vehicle is not designed to be dinghy towed (with 4 wheels on the ground) behind a motor home. NOTICE: To avoid serious damage to your vehicle Do not tow your vehicle with four wheels on the ...