Under tray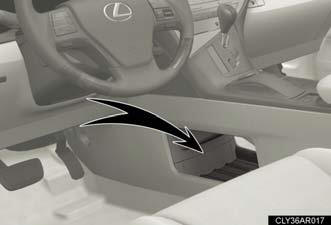 CAUTION:
Items unsuitable for the under tray Observe the following precautions when putting items in the under tray. Failure to
do so may cause items to be thrown out of the tray in the event of sudden braking or
steering. In these cases, the items may interfere with pedal operation or cause driver distraction, resulting in an accident.
Do not store items in the tray that can easily shift or roll out.
Do not stack items in the tray higher than the tray's edge.
Do not put items in the tray that may protrude over the tray's edge.
See also:
And the inside?
Like the exterior, the ESТ interior makes neither friends nor enemies. ItТs business as usual for Lexus, which means youТll be treated to acres of glossy wood, sumptuous leather and a generally co ...
Engine/Transmission/Drivetrain/Performance
The IS 250's 2.5-liter V6 engine delivers 204 horsepower at 6,400 RPM and 185 lb.-ft. of peak torque at 4,800 rpm. The Lexus IS 350's 3.5-liter V6 offers a more potent 306 horsepower at 6,400 RPM ...
Tires
Replace or rotate tires in accordance with maintenance schedules and treadwear. Checking tires 1. New tread. 2. Treadwear indicator. 3. Worn tread. The location of treadwear indicators is sho ...