Auxiliary boxes
- Overhead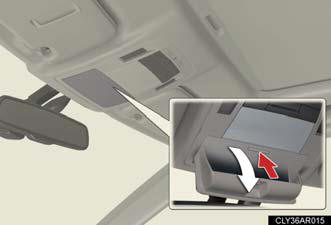 Press in the lid.
This box is useful for temporarily storing sunglasses and similar small items.
- Rear seat (if equipped)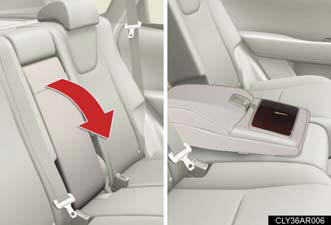 Pull down the armrest.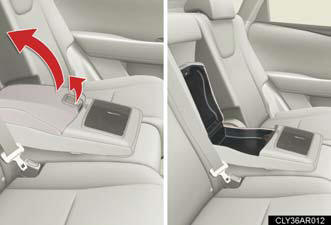 Pull up the lever to release the lock and lift the armrest.
CAUTION:
Items that should not be left in the auxiliary box (overhead type) Do not leave glasses or lighters in the box.
If the interior of the vehicle becomes hot, lighters may explode and glasses may warp or crack.
Caution while driving
Do not leave the auxiliary box open while driving.
Items stored in the auxiliary box may fall out and cause death or serious injury in
case of an accident or sudden stop.
See also:
Theft prevention labels (for U.S.A.)
These labels are attached to the vehicle to reduce vehicle theft by facilitating the tracing and recovery of parts from stolen vehicles. Do not remove under penalty of law. ...
Thrust vs. Thrift
Thanks to the drivetrain's immediate thrust, the CT 200h has adequate oomph for driving solo: It scoots from a stoplight well enough and maintains highway speeds with little trouble. But it lacks ...
If you lose your keys
New genuine Lexus keys can be made by your Lexus dealer using the other key and the key number stamped on your key number plate. ...