Anti-glare inside rear view mirror
In automatic mode, sensors are used to detect the headlights of vehicles behind and the reflected light is automatically reduced.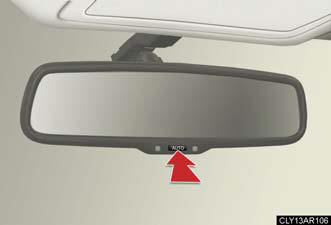 Turns automatic mode on/off The indicator comes on when automatic mode is turned on.
The mirror will revert to automatic mode each time the
"POWER" switch is turned to ON mode.
To prevent sensor error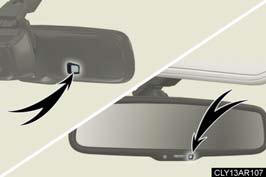 To ensure that the sensors operate properly, do not touch or cover them.
CAUTION:
Caution while driving
Do not adjust the position of the mirror while driving.
Doing so may lead to mishandling of the vehicle and cause an accident, resulting in
death or serious injury.
See also:
Checking and replacing fuses
If any of the electrical components do not operate, a fuse may have blown. If this happens, check and replace the fuses as necessary. 1. Turn the "ENGINE START STOP" switch OFF. 2. Remove the engin ...
Using the phone book
To enter the menu for each function, follow the steps below using a voice command or : - Adding a new phone number 1. "Phonebook" → 2. "Add Entry". - Changing the registered name in the phon ...
Emission inspection and maintenance (I/M) programs
Some states have vehicle emission inspection programs which include OBD (On Board Diagnostics) checks. The OBD system monitors the operation of the emission control system. If the malfunction indic ...