Anti-glare inside rear view mirror
In automatic mode, sensors are used to detect the headlights of vehicles behind and the reflected light is automatically reduced.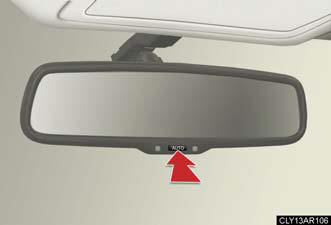 Turns automatic mode on/off The indicator comes on when automatic mode is turned on.
The mirror will revert to automatic mode each time the
"POWER" switch is turned to ON mode.
To prevent sensor error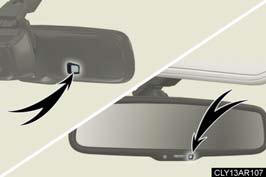 To ensure that the sensors operate properly, do not touch or cover them.
CAUTION:
Caution while driving
Do not adjust the position of the mirror while driving.
Doing so may lead to mishandling of the vehicle and cause an accident, resulting in
death or serious injury.
See also:
Wireless remote control
The wireless remote control can be used to lock and unlock the vehicle and the trunk from outside the vehicle. 1. Locks all doors. 2.Unlocks all doors. Pressing the button unlocks the driver's ...
2011 Lexus CT 200h review By G. Chambers Williams III
Lexus will bring its first compact hybrid vehicle to market early next year, the CT 200h hatchback, Toyota's luxury brand announced this week at the New York auto show. It will be the first &quo ...
Interior Design
The 2010 Lexus GX 460 provides the luxury appointments and workmanship of a Lexus sedan. Reduced drivetrain noise, especially in the 3,000-4,000 rpm range, combined with new sound insulating, damp ...