Headlight aim (vehicles with discharge headlights)
Vertical movement adjusting bolts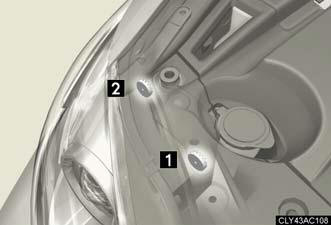 1. Adjustment bolt A.
2. Adjustment bolt B.
Before checking the headlight aim
1. Make sure the vehicle has a full tank of gas and the area around the headlight is not deformed.
2. Park the vehicle on level ground.
3. Sit in the driver's seat.
4. Bounce the vehicle several times.
Adjusting the headlight aim
Remove the engine compartment cover.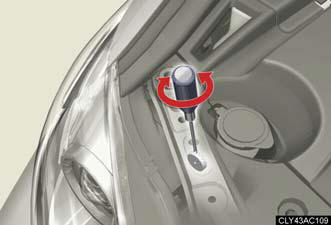 Turn bolt A in either direction using a Phillips-head screwdriver.
Remember the turning direction and the number of turns in mind.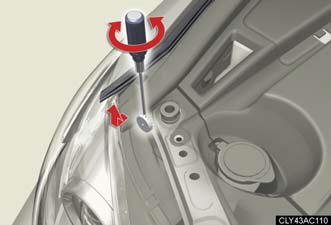 Turn bolt B the same number of turns and in the same direction as step 1 using a Phillips-head screwdriver.
If the error is over the value specified above, take the vehicle to your Lexus dealer to adjust the headlight aim.
See also:
Theft prevention labels (for U.S.A.)
These labels are attached to the vehicle to reduce vehicle theft by facilitating the tracing and recovery of parts from stolen vehicles. Do not remove under penalty of law. ...
Engine immobilizer system
The vehicle's keys have built-in transponder chips that prevent the engine from starting if the key has not been previously registered in the vehicle's on-board computer. Never leave the keys insid ...
Trailer towing (AWD models with towing package)
Your vehicle is designed primarily as a passenger-and-load carrying vehicle. Towing a trailer will have an adverse effect on handling, performance, braking, durability, and fuel consumption. For y ...