Rear sunshade
The rear sunshade can be raised and lowered by operating the switch shown below.

Type A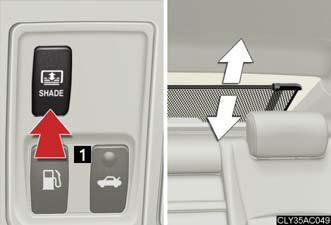 1. Raise/lower

Type B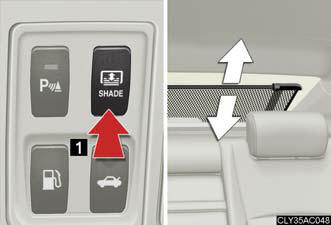 1. Raise/lower
The rear sunshade can be used when
The "ENGINE START STOP" switch is in IGNITION ON mode.
Reverse operation feature
The rear sunshade automatically lowers when the shift lever is shifted into R. The
rear sunshade rises when the shift lever is shifted out of R and vehicle speed reaches 9 mph (15 km/h).
When the reverse operation feature does not operate
The rear sunshade may not lower or rise automatically. In this case, press the switch
to lower or raise the rear sunshade.
CAUTION:
When the rear sunshade is being raised or lowered Do not place fingers or other objects in the fastener section or in the opening.
They may get caught, causing injury.
NOTICE:
To prevent the battery from being discharged Do not operate the rear sunshade when the engine is not running.
To ensure normal operation of the sunshade Observe the following precautions.
- Do not place excessive load on the motor or other components.
- Do not place objects where they may hinder opening and closing operations.
- Do not attach items to the rear sunshade.
- Keep the opening clean and clear of obstructions.
- Do not operate the rear sunshade continuously over long periods of time.
See also:
Lexus GS 300 Review
Its only a Toyota in a party frock I can hear you say. Your not fooled by the Lexus logo, so why did Toyota bother. In the sector that this Lexus lives, name is everything , the competition has ...
Windshield wipers and washer
- Intermittent windshield wipers with interval adjuster The wiper operation is selected as follows by turning the switch ring. When intermittent windshield wiper operation is selected, the wiper in ...
Fifth Gear Lexus IS review
There is no tougher automotive segment in the world than the compact executive class, which has long since been ruled over by the BMW 3 Series and Audi A4. And the Lexus IS does run its German riv ...