Optimal use of the audio system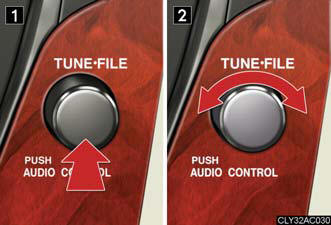 1. Displays the current mode.
2. Changes the following setting.
• Sound quality and volume balance.
The sound quality and balance setting can be changed to produce the best sound.
• Automatic Sound Levelizer ON/OFF.
Adjusting sound quality and volume balance
Changing sound quality modes
Press

.

Pressing the button changes sound modes in the following order: "BAS"→"MID"→"TRE"→"FAD"→"BAL"→"ASL".
Adjusting sound quality
Turning

adjusts the level.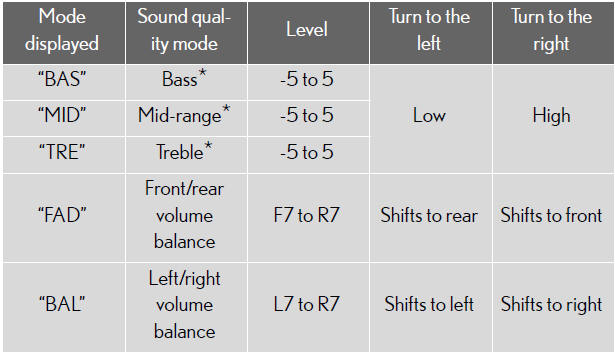 *: The sound quality level is adjusted individually in each audio mode.
Turning the Automatic Sound Levelizer (ASL) on/off
Turning

clockwise turns on the
ASL, and turning

counterclockwise
turns off the ASL.
ASL automatically adjusts the volume and tone quality according to the noise level as you drive your vehicle.
See also:
Engine/Transmission/Drivetrain/Performance
The IS 250's 2.5-liter V6 engine delivers 204 horsepower at 6,400 RPM and 185 lb.-ft. of peak torque at 4,800 rpm. The Lexus IS 350's 3.5-liter V6 offers a more potent 306 horsepower at 6,400 RPM ...
Installing child restraints
Follow the child restraint system manufacturer's instructions. Firmly secure child restraints to the outside rear seats using the LATCH anchors or a seat belt. Attach the top tether strap when insta ...
Clock
The clock is displayed when the "POWER" switch is in ACCESSORY or ON mode. Perform the following steps to adjust the clock. - Without a navigation system 1. Adjusts the hours. 2. Adjusts the min ...