Cruise control
Use the cruise control to maintain a set speed without using the accelerator.
Set the vehicle speed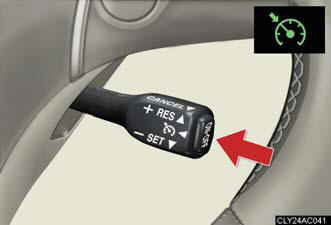 Turn the "ON-OFF" button ON.
Push the button once more to deactivate the cruise control.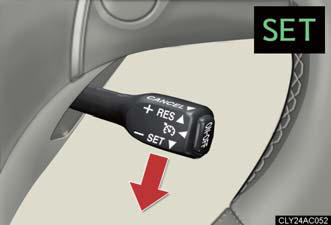 Accelerate or decelerate to the desired speed and press the lever down to set the cruise control speed.
Adjusting the speed setting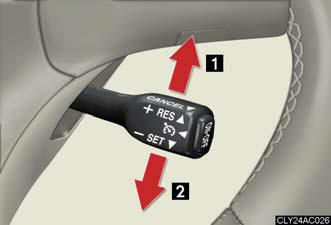 1. Increase speed.
2. Decrease speed.
Hold the lever until the desired speed setting is obtained.
Canceling and resuming regular acceleration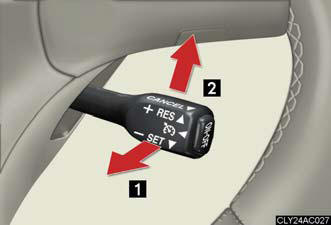 1. Cancel.
Pull the lever towards you to cancel cruise control.
The speed setting is also canceled when the brakes are
applied.
2. Resume.
To resume cruise control and return to the set speed, push the lever up.
Fine adjustment of the set speed
Fine adjustment of the set speed (approximately 1.0 mph [1.6 km/h]) can be made
by lightly pressing the lever up or down and releasing it.
Cruise control can be set when
The shift lever is in the D or 4, 5, or 6 range of S.
- Vehicle speed is above approximately 25 mph (40 km/h).
Accelerating
The vehicle can be accelerated normally. After acceleration, the set speed resumes.
Automatic cruise control cancellation
The set speed is automatically cancelled in any of the following situations.
- Actual vehicle speed falls more than approximately 10 mph (16 km/h) below the preset vehicle speed
At this time, the memorized set speed is not retained.
- Actual vehicle speed is below approximately 25 mph (40km/h) - VSC is activated
If the cruise control indicator light flashes
Turn the ON-OFF button off once, and then reactivate the system.
If the cruise control speed cannot be set or if the cruise control cancels immediately
after being activated, there may be a malfunction in the cruise control system. Have
the vehicle inspected by your Lexus dealer.
CAUTION:
To avoid inadvertent cruise control activation Keep the ON-OFF button off when not in use.
Situations unsuitable for cruise control Do not use cruise control in any of the following situations.
Doing so may result in control of the vehicle being lost and could cause an accident
resulting in death or serious injury.
- In heavy traffic.
- On roads with sharp bends.
- On slippery roads, such as those covered with rain, ice or snow.
- On steep hills.
- On winding roads.
- When towing a trailer or emergency towing.
See also:
Indicators and warning lights
The indicator and warning lights on the instrument cluster and center panel inform the driver of the status of the vehicle's various systems. Instrument cluster The units used on the speedometer ...
Reporting safety defects for U.S. owners
If you believe that your vehicle has a defect which could cause a crash or could cause injury or death, you should immediately inform the National Highway Traffic Safety Administration (NHTSA) in ad ...
Aerodynamics
With the benefits of extensive Computer Aided Design and wind tunnel testing, the Lexus CT 200h has been designed for maximum aerodynamic efficiency. A resultant, class-leading drag coefficient of ...