Outside rear view mirrors
Mirror angle can be adjusted using the switch when the "ENGINE START STOP" switch is in ACCESSORY or IGNITION ON mode.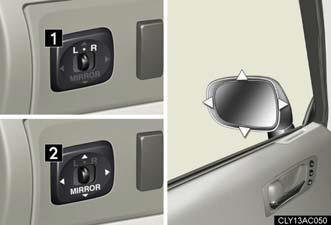 1. Select a mirror to adjust (L: left or R: right).
2. Adjust the mirror up, down, in, or out using the switch.
When the mirrors are fogged up
Turn on the mirror defoggers to defog the mirrors.
Folding back the mirrors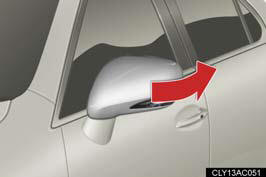 Push back in the direction of the vehicle's rear.
One-touch adjustment of the mirror angle (vehicles with driving position memory)
A desired mirror face angle can be entered to memory and adjusted with the touch
of a button.
Linked mirror function when reversing (vehicles with driving position memory)
The outside rear view mirrors will automatically angle downwards when the vehicle
is reversing in order to give a better view of the ground. However, this function will
not operate when the mirror select switch is in the neutral position (between L and
R).
Auto anti-glare function
When the anti-glare inside rear view mirror is set to AUTO mode, the outside rear
view mirrors will activate in conjunction with the anti-glare inside rear view mirror to
reduce reflected light.
CAUTION:
When driving the vehicle Observe the following precautions while driving.
Failing to do so may result in loss of control of the vehicle and cause an accident,
resulting in death or serious injury.
- Do not adjust the mirrors while driving.
- Do not drive with the mirrors folded back.
- Both the driver and passenger side mirrors must be extended and properly adjusted before driving.
When the mirror defoggers are operating Do not touch the rear view mirror surfaces, as they can become very hot and burn you.
See also:
Exterior
There's no argument that the GX 470 is a pretty SUV. This was a full-sized mama with curves in all the right places. The GX was big without being bulky or obnoxious, like some of the other huge SU ...
Child restraint systems
A child restraint system for a small child or baby must itself be properly restrained on the seat with the lap portion of the lap/shoulder belt. The laws of all 50 states of the U.S.A. and Canada no ...
RX 450h in the Market
I've personally never understood car shoppers' desire to get a hybrid version of a luxury car or SUV, even if the mileage gains are significant, as they are in the RX; these buyers can afford more ...