Anti-glare inside rear view mirror
In AUTO mode, sensors are used to detect the headlights of vehicles behind and automatically reduces the reflected light.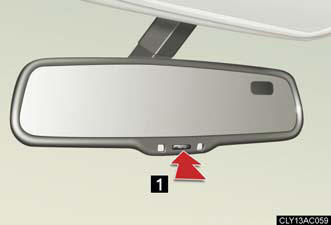 1. Turns AUTO mode ON/OFF The indicator comes on when AUTO mode is turned ON.
The anti-glare mirror default mode is AUTO. The anti-glare mirror is automatically set to AUTO whenever the "ENGINE START STOP" switch is turned on.
To prevent sensor error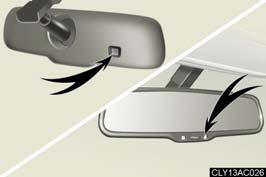 To ensure that the sensors operate properly, do not touch or cover it.
CAUTION:
Caution while driving
Do not adjust the position of the mirror while driving.
Doing so may lead to mishandling of the vehicle and an accident, resulting in death
or serious injury.
See also:
Electronic key battery
Replace the battery with a new one if it is discharged. You will need the following items: Flathead screwdriver. Small Phillips-head screwdriver. Lithium battery (CR1632). Replacing the battery ...
Sun visors
1. Forward position: Flip down. 2. Side position: Flip down, unhook, and swing to the side. 3. Side extender: Place in side position, then slide backwards. ...
Leftlane's bottom line
We expected to be able to easily write off the GS 460 given its age and Lexus' general aversion to enthusiastic driving. But a week behind the wheel of the smooth and capable GS revealed a surpris ...