Anti-glare inside rear view mirror
In AUTO mode, sensors are used to detect the headlights of vehicles behind and automatically reduces the reflected light.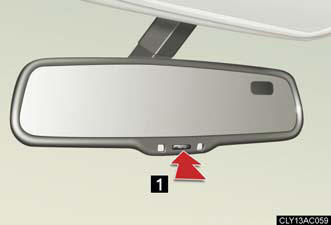 1. Turns AUTO mode ON/OFF The indicator comes on when AUTO mode is turned ON.
The anti-glare mirror default mode is AUTO. The anti-glare mirror is automatically set to AUTO whenever the "ENGINE START STOP" switch is turned on.
To prevent sensor error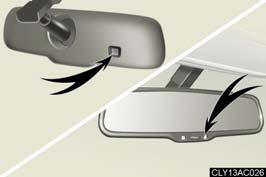 To ensure that the sensors operate properly, do not touch or cover it.
CAUTION:
Caution while driving
Do not adjust the position of the mirror while driving.
Doing so may lead to mishandling of the vehicle and an accident, resulting in death
or serious injury.
See also:
2009 Lexus GX 470 review
Maybe I'm spoiled, but I like nice things. I especially like nice cars with rich leather seats, premium sound systems, powerful engines and super-cool features. These are some of the things that m ...
Armrest
Pull the armrest down for use. NOTICE: To prevent damage to the armrest Do not place too much strain on the armrest. ...
Interior
The level of luxury inside is pretty high. I found it to be nearly as rich as the larger, more expensive LX. Standout treatments included a leather-wrapped steering wheel and dash, with stitching ...