Steering wheel
The steering wheel can be adjusted to a comfortable position while the "ENGINE START STOP" switch is in ACCESSORY or IGNITION ON mode.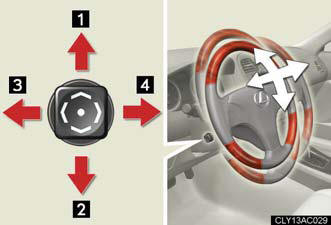 1. Up.
2. Down.
3. Away from the driver.
4. Toward the driver.
Auto tilt away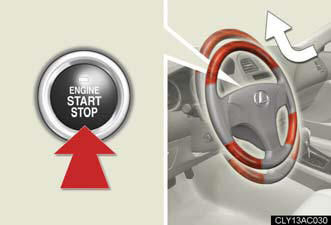 When the "ENGINE START STOP" switch is turned OFF, the steering wheel returns to its stowed position by moving up and away to enable easier driver entry and exit.
Turning the "ENGINE START STOP" switch to ACCESSORY or IGNITION ON mode will return the steering wheel to the original position.
CAUTION:
Caution while driving
Do not adjust the steering wheel while driving.
Doing so may cause the driver to mishandle the vehicle and an accident, resulting in
death or serious injury.
See also:
Driving Impressions
The first thing that struck me about the RX 350 was how light and precise the steering is; it's easy to handle the RX in a parking garage or any tight space. That's not impressive in itself, but t ...
Interior
The interior is where this lady really shines and pampers me (as a single mom, I'm totally OK with the idea of someone pampering me for a change). For those blessed enough to live in warm climates ...
Safety
Packed with 10 airbags and the requisite safety features found in luxury cars these days, the 2010 RX was named a Top Safety Pick by the Insurance Institute for Highway Safety in 2009. For 2010, t ...