Under tray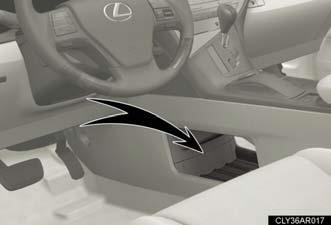 CAUTION:
Items unsuitable for the under tray Observe the following precautions when putting items in the under tray. Failure to
do so may cause items to be thrown out of the tray in the event of sudden braking or
steering. In these cases, the items may interfere with pedal operation or cause driver distraction, resulting in an accident.
Do not store items in the tray that can easily shift or roll out.
Do not stack items in the tray higher than the tray's edge.
Do not put items in the tray that may protrude over the tray's edge.
See also:
Maintenance requirements
To ensure safe and economical driving, day-to-day care and regular maintenance are essential. It is the owner's responsibility to perform regular checks. Lexus recommends performing the following ...
Safety Connect
Safety Connect is a subscription-based telematics service that uses Global Positioning System (GPS) data and embedded cellular technology to provide safety and security features to subscribers. Safe ...
Luxury Options
Lexus makes personalizing the Lexus GX 460 easy for 2010 by offering a Convenience Package and a Comfort Plus Package, as well as making many of the packages' features available as stand-alone opt ...