Gauges and meters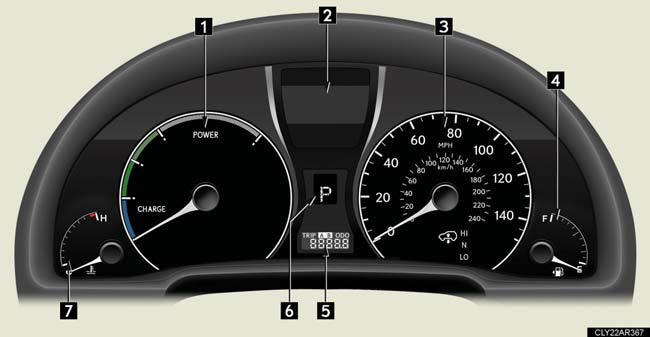 1. Hybrid System Indicator.
Displays hybrid system output or regeneration level.
2. Multi-information display.
3. Speedometer.
Displays the vehicle speed.
4. Fuel gauge.
Displays the quantity of fuel remaining in the tank.
5. Odometer and trip meter.
Odometer: Displays the total distance the vehicle has been driven.
Trip meter: Displays the distance the vehicle has been driven since the meter was last reset. Trip meters "A" and "B" can be used to record and display different distances independently.
6. Shift position and shift range display.
7. Engine coolant temperature gauge.
Displays the engine coolant temperature.
Changing the display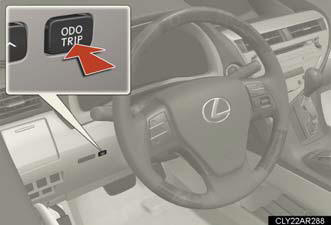 Switches between odometer and trip meter displays. When the trip meter is displayed, pressing and holding the button will reset the trip meter.
Instrument panel light control
The brightness of the instrument panel lights can be adjusted.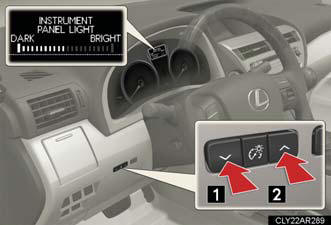 1. Darker.
2. Brighter.
The meters and display illuminate when
The "POWER" switch is in ON mode.
Hybrid System Indicator
By keeping the indicator within the Eco area, more environment-friendly driving
can be achieved.
The Charge area indicates regeneration* status. Regenerated energy will be used to charge the hybrid battery (traction battery).
*: When used in this manual, "regeneration" refers to the conversion of energy created
by the movement of the vehicle into electrical energy.
NOTICE:
To prevent damage to the engine and its components The engine may be overheating if the engine coolant temperature gauge is in the red zone (H). In this case, immediately stop the vehicle in a safe place, and check
the engine after it has cooled completely.
See also:
Fifth Gear Lexus IS review
There is no tougher automotive segment in the world than the compact executive class, which has long since been ruled over by the BMW 3 Series and Audi A4. And the Lexus IS does run its German riv ...
Dynamic radar cruise control
Dynamic radar cruise control supplements conventional cruise control with a vehicle-to-vehicle distance control. In vehicle-to-vehicle distance control mode, the vehicle automatically accelerates or ...
Engine immobilizer system
The vehicle's keys have built-in transponder chips that prevent the engine from starting if the key has not been previously registered in the vehicle's on-board computer. Never leave the keys insid ...