Gauges and meters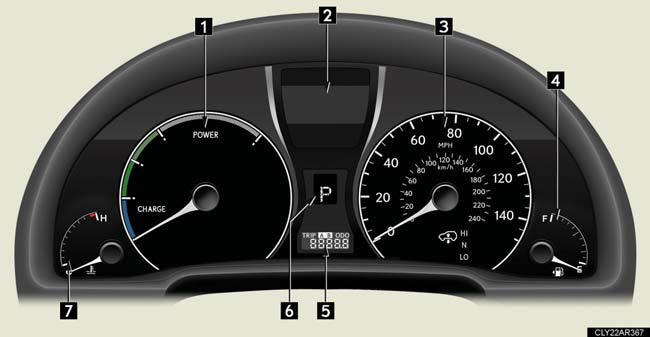 1. Hybrid System Indicator.
Displays hybrid system output or regeneration level.
2. Multi-information display.
3. Speedometer.
Displays the vehicle speed.
4. Fuel gauge.
Displays the quantity of fuel remaining in the tank.
5. Odometer and trip meter.
Odometer: Displays the total distance the vehicle has been driven.
Trip meter: Displays the distance the vehicle has been driven since the meter was last reset. Trip meters "A" and "B" can be used to record and display different distances independently.
6. Shift position and shift range display.
7. Engine coolant temperature gauge.
Displays the engine coolant temperature.
Changing the display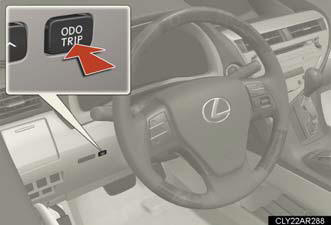 Switches between odometer and trip meter displays. When the trip meter is displayed, pressing and holding the button will reset the trip meter.
Instrument panel light control
The brightness of the instrument panel lights can be adjusted.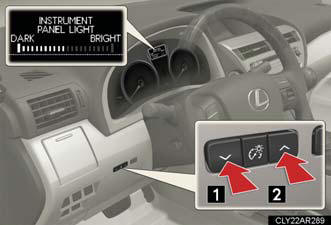 1. Darker.
2. Brighter.
The meters and display illuminate when
The "POWER" switch is in ON mode.
Hybrid System Indicator
By keeping the indicator within the Eco area, more environment-friendly driving
can be achieved.
The Charge area indicates regeneration* status. Regenerated energy will be used to charge the hybrid battery (traction battery).
*: When used in this manual, "regeneration" refers to the conversion of energy created
by the movement of the vehicle into electrical energy.
NOTICE:
To prevent damage to the engine and its components The engine may be overheating if the engine coolant temperature gauge is in the red zone (H). In this case, immediately stop the vehicle in a safe place, and check
the engine after it has cooled completely.
See also:
Moon roof
Use the overhead switches to open, close, and tilt the moon roof up and down. Opening and closing Standard type 1. Open. The moon roof stops slightly before the fully opened position. Push th ...
If you have a flat tire
Remove the flat tire and replace it with the spare provided. Before jacking up the vehicle Stop the vehicle on a hard, flat surface. Set the parking brake. Shift the shift lever to P. Vehicles wi ...
If a warning message is displayed
If a warning is shown on the multi-information display, stay calm and perform the following actions: 1. Master warning light. The master warning light also comes on or flashes in order to ind ...