Alarm
The system sounds the alarm and flashes the lights when forcible entry is detected.
Triggering of the alarm
The alarm is triggered in the following situations: A locked door is unlocked or opened in any way other than using the entry function, wireless remote control or mechanical key with the alarm being set.
The hood is opened with the alarm being set.
Setting the alarm system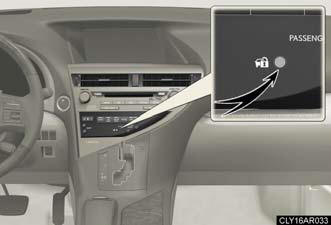 Close the doors and hood, and lock all the doors.
The system will be set automatically after 30 seconds.
The indicator light changes from being on to flashing when the system is set.
Deactivating or stopping the alarm
Do one of the following to deactivate or stop the alarms: Unlock the doors.
Start the hybrid system. (The alarm will be deactivated or stopped after a few seconds.)
Items to check before locking the vehicle
To prevent unexpected triggering of the alarm and vehicle theft, make sure of the
following:
Nobody is in the vehicle.
The windows and moon roof are closed before the alarm is set.
No valuables or other personal items are left in the vehicle.
Triggering of the alarm
The alarm may be triggered in the following situations: (Stopping the alarm deactivates the alarm system.) A person inside the vehicle opens a door or the hood.
The 12-volt battery is recharged or replaced when the vehicle is locked.
NOTICE:
To ensure the system correctly Do not modify and remove the system. If modified or removed, the proper operation
of the system cannot be guaranteed.
See also:
Windshield wipers and washer
With "AUTO" selected, the wipers will operate automatically when the sensor detects falling rain. The system automatically adjusts wiper timing in accordance with rain volume and vehicle speed. 1 ...
Overview
The 2010 Lexus GS 350 and Lexus GS 460 deliver a unique combination of luxury and sport performance to the Lexus vehicle lineup. Several technology enhancements continue to keep GS models at the t ...
Overview
The Lexus CT 200h marks the introduction of the first, and only, full hybrid vehicle to the core of the premium compact segment. Lexus' first ever compact, five-door car, the Lexus CT 200h full hy ...