Outside rear view mirrors
Mirror angle can be adjusted using the switch.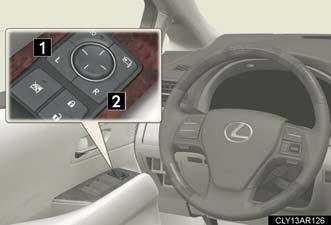 To select a mirror to adjust, press the switch.
1. Left.
2. Right.
Pressing the same switch again will put the switch in neutral.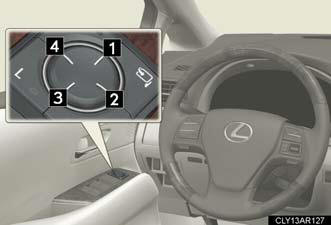 To adjust the mirror, press the switch.
1. Up.
2. Right.
3. Down.
4. Left.
Manually folding and extending the mirrors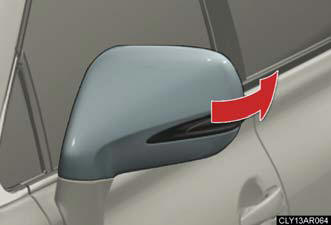 Push the mirror back in the direction of the vehicle's rear.
Automatically folding and extending the mirrors (if equipped)
Using the switch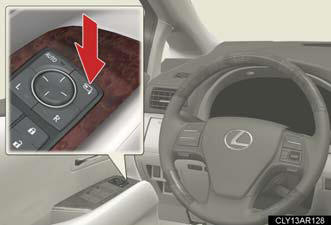 Press the switch to fold the mirrors.
Press it again to return them.
Setting automatic mode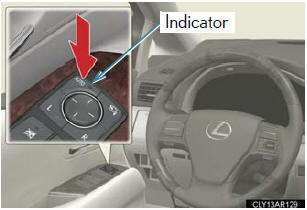 Automatic mode allows the folding or extending of the mirrors to be linked to locking/unlocking of the doors.
Press the УAUTOФ button to set automatic mode.
The indicator will come on.
Mirror angle can be adjusted when
The УPOWERФ switch is in ACCESSORY or ON mode.
Linked mirror function when reversing
The right and left outside rear view mirrors will automatically angle downwards
when the vehicle is reversing in order to give a better view of the ground. This function
only operates when either the УLФ or УRФ mirror select button is selected.
When the mirrors are fogged up
Turn on the mirror defoggers to defog the mirrors.
Automatic adjustment of the mirror angle (vehicles with driving position memory)
A desired mirror face angle can be entered to memory and recalled automatically
by the driving position memory.
Auto anti-glare function (if equipped)
When the anti-glare inside rear view mirror is set to automatic mode, the outside
rear view mirrors will activate in conjunction with the anti-glare inside rear view mirror
to reduce reflected light.
CAUTION:
When driving the vehicle Observe the following precautions while driving.
Failing to do so may result in loss of control of the vehicle and cause an accident,
resulting in death or serious injury.
Do not adjust the mirrors while driving.
Do not drive with the mirrors folded.
Both the driver and passenger side mirrors must be extended and properly adjusted before driving.
When a mirror is moving
To avoid personal injury and mirror malfunction, be careful not to get your hand caught by the moving mirror.
When the mirror defoggers are operating Do not touch the rear view mirror surfaces, as they can become very hot and burn you.
See also:
Headlight aim (vehicles with discharge headlights)
Vertical movement adjusting bolts 1. Adjustment bolt A. 2. Adjustment bolt B. Before checking the headlight aim 1. Make sure the vehicle has a full tank of gas and the area around the headlight ...
Correct driving posture
Drive in a good posture as follows: 1. Sit upright and well back in the seat. 2. Adjust the position of the seat forward or backward to ensure the pedals can be reached and easily depressed t ...
Event data recorder
Your vehicle has computers that monitor and control certain aspects of your vehicle. These computers assist in driving and maintaining optimal vehicle performance. Besides storing data useful for t ...