Anti-glare inside rear view mirror
In automatic mode, sensors are used to detect the headlights of vehicles behind and the reflected light is automatically reduced.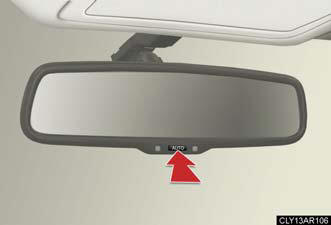 Turns automatic mode on/off The indicator comes on when automatic mode is turned on.
The mirror will revert to automatic mode each time the
"POWER" switch is turned to ON mode.
To prevent sensor error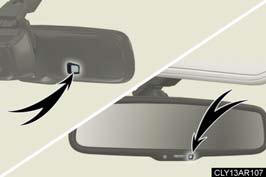 To ensure that the sensors operate properly, do not touch or cover them.
CAUTION:
Caution while driving
Do not adjust the position of the mirror while driving.
Doing so may lead to mishandling of the vehicle and cause an accident, resulting in
death or serious injury.
See also:
Driving position memory (driver's seat)
Your preferred driving position (the position of the driver's seat, steering wheel and outside rear view mirrors) can be memorized and recalled with the touch of a button. It is also possible to s ...
Correct driving posture
Drive in a good posture as follows: 1. Sit upright and well back in the seat. 2. Adjust the position of the seat forward or backward to ensure the pedals can be reached and easily depressed t ...
If a warning light turns on or a warning buzzer sounds...
Calmly perform the following actions if any of the warning lights comes on or flashes. If a light comes on or flashes, but then goes off, this does not necessarily indicate a malfunction in the sy ...