If your vehicle has to be stopped in an emergency
Only in an emergency, such as if it becomes impossible to stop the vehicle in the normal way, stop the vehicle using the following procedure:
1. Steadily step on the brake pedal with both feet and firmly depress it.
Do not pump the brake pedal repeatedly as this will increase the effort required to slow the vehicle.
2. Shift the shift lever to N.

If the shift lever is shifted to N
3. After slowing down, stop the vehicle in a safe place by the road.
4. Stop the engine.

If the shift lever cannot be
shifted to N
3. Keep depressing the brake pedal with both feet to reduce vehicle speed as much as possible.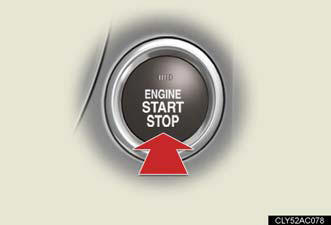 4. Stop the engine by pressing and holding the "ENGINE START STOP" switch for 3 consecutive seconds or more.
5. Stop the vehicle in a safe place by the road.
CAUTION:
If the engine has to be turned off while driving - Power assist for the brakes and steering wheel will be lost, making the brake pedal harder to depress and the steering wheel heavier to turn. Decelerate as much as possible before turning off the engine.
See also:
If the electronic key does not operate properly
If communication between the electronic key and vehicle is interrupted or the electronic key cannot be used because the battery is depleted, smart access system with push-button start and wireless r ...
Seat belt instructions for Canadian owners (in French)
The following is a French explanation of seat belt instructions extracted from the seat belt section in this manual. See the seat belt section for more detailed seat belt instructions in English. ...
Exterior Design
Lexus designed the 2010 GX 460 to combine function and elegance, with unmistakable brand identity rooted in the L-finesse design language. The overall effect conveys the vehicle's full-range capab ...