Optimal use of the audio system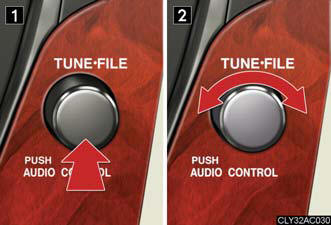 1. Displays the current mode.
2. Changes the following setting.
• Sound quality and volume balance.
The sound quality and balance setting can be changed to produce the best sound.
• Automatic Sound Levelizer ON/OFF.
Adjusting sound quality and volume balance
Changing sound quality modes
Press

.

Pressing the button changes sound modes in the following order: "BAS"→"MID"→"TRE"→"FAD"→"BAL"→"ASL".
Adjusting sound quality
Turning

adjusts the level.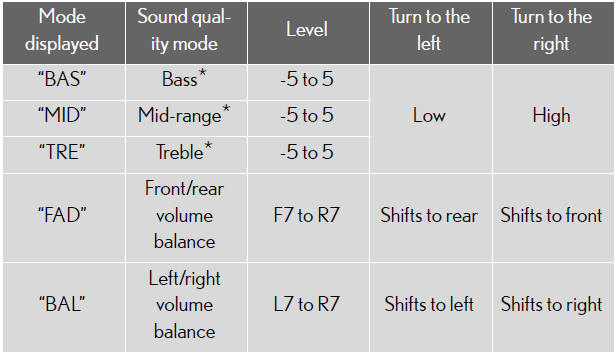 *: The sound quality level is adjusted individually in each audio mode.
Turning the Automatic Sound Levelizer (ASL) on/off
Turning

clockwise turns on the
ASL, and turning

counterclockwise
turns off the ASL.
ASL automatically adjusts the volume and tone quality according to the noise level as you drive your vehicle.
See also:
Theft prevention labels (for USA)
These labels are attached to the vehicle to reduce vehicle theft by facilitating the tracing and recovery of parts from stolen vehicles. Do not remove under penalty of law. ...
Pricing Notes
The Manufacturer's Suggested Retail Prices (MSRP) on these mid-size sport sedans reflect their impressive content and capabilities while keeping them competitive and in line with offerings from th ...
Used Lexus ES 350
Models Introduced for 2007, the present-generation Lexus ES 350 essentially hasn't changed much, making low-mileage, well-kept examples top used car choices. The previous generation of the ES, w ...