Optimal use of the audio system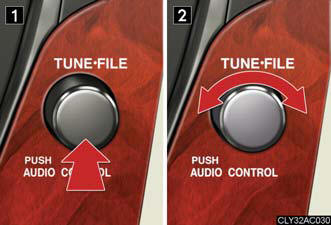 1. Displays the current mode.
2. Changes the following setting.
• Sound quality and volume balance.
The sound quality and balance setting can be changed to produce the best sound.
• Automatic Sound Levelizer ON/OFF.
Adjusting sound quality and volume balance
Changing sound quality modes
Press

.

Pressing the button changes sound modes in the following order: "BAS"→"MID"→"TRE"→"FAD"→"BAL"→"ASL".
Adjusting sound quality
Turning

adjusts the level.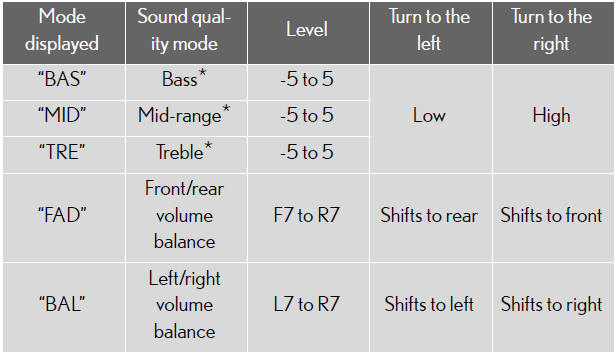 *: The sound quality level is adjusted individually in each audio mode.
Turning the Automatic Sound Levelizer (ASL) on/off
Turning

clockwise turns on the
ASL, and turning

counterclockwise
turns off the ASL.
ASL automatically adjusts the volume and tone quality according to the noise level as you drive your vehicle.
See also:
Correct driving posture
Drive in a good posture as follows: 1. Sit upright and well back in the seat. 2. Adjust the position of the seat forward or backward to ensure the pedals can be reached and easily depressed t ...
Head restraints
Head restraints are provided for all seats. 1. Up. Pull the head restraints up. 2. Down. Push the head restraint down while pressing the lock release button. Removing the head restraints P ...
Doors
The vehicle can be locked and unlocked using the entry function, wireless remote control or door lock switch. Door lock switch 1. Locks all doors. 2. Unlocks all doors. Inside lock button 1. ...