Optimal use of the audio system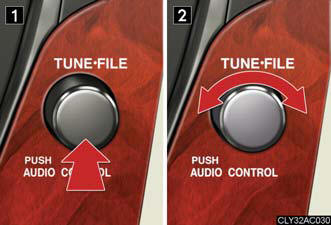 1. Displays the current mode.
2. Changes the following setting.
• Sound quality and volume balance.
The sound quality and balance setting can be changed to produce the best sound.
• Automatic Sound Levelizer ON/OFF.
Adjusting sound quality and volume balance
Changing sound quality modes
Press

.

Pressing the button changes sound modes in the following order: "BAS"→"MID"→"TRE"→"FAD"→"BAL"→"ASL".
Adjusting sound quality
Turning

adjusts the level.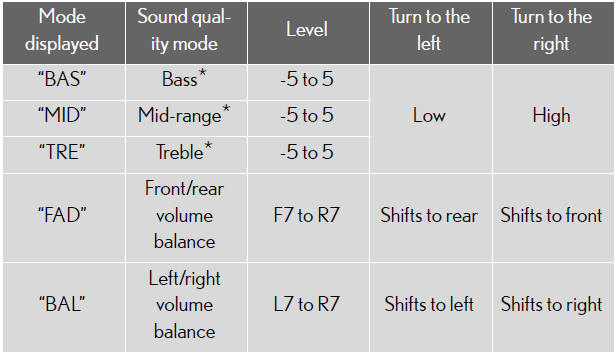 *: The sound quality level is adjusted individually in each audio mode.
Turning the Automatic Sound Levelizer (ASL) on/off
Turning

clockwise turns on the
ASL, and turning

counterclockwise
turns off the ASL.
ASL automatically adjusts the volume and tone quality according to the noise level as you drive your vehicle.
See also:
Most recent Lexus GS 300
Last redesigned for 2006, the third-generation Lexus GS 300 lasted only one year, as Lexus installed a powerful new 3.5-liter V6 in its rear-drive midsize sedan the following year, prompting a nam ...
Cargo and luggage
Take notice of the following information about storage precautions, cargo capacity and load. Stow cargo and luggage in the trunk whenever possible. Be sure all items are secured in place. - Be car ...
If your vehicle overheats
If your engine overheats: 1. Stop the vehicle in a safe place and turn off the automatic air conditioning system. 2. Check to see if steam is coming out from under the hood. If you see steam: Sto ...