Correct driving posture
Drive in a good posture as follows: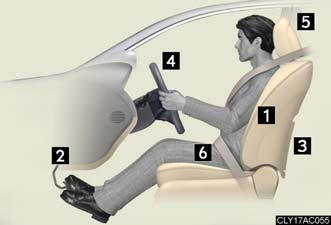 1. Sit upright and well back in the seat.
2. Adjust the position of the seat forward or backward to
ensure the pedals can be reached and easily
depressed to the extent
required.
3. Adjust the seatback so that the controls are easily operable.
4. Adjust the tilt and telescopic positions of the steering wheel downward so the airbag is facing your chest.
5. Lock the head restraint in place with the center of the head restraint closest to the top of your ears.
6. Wear the seat belt correctly.
CAUTION:
While driving
- Do not adjust the position of the driver's seat while driving.
Doing so could cause the driver to lose control of the vehicle.
- Do not place a cushion between the driver or passenger and the seatback.
A cushion may prevent correct posture from being achieved, and reduce the effectiveness of the seat belt and head restraint, increasing the risk of death or
serious injury to the driver or passenger.
- Do not place anything under the front seats.
Objects placed under the front seats may become jammed in the seat tracks and stop the seat from locking in place. This may lead to an accident. The adjustment
mechanism may also be damaged.
Adjusting the seat position: - Take care when adjusting the seat position to ensure that other passengers are not injured by the moving seat.
- Do not put your hands under the seat or near the moving parts to avoid injury.
Fingers or hands may become jammed in the seat mechanism.
See also:
Engine/Transmission/Drivetrain/Performance
The GS gas luxury sport sedan comes in three models - GS 350 RWD, GS 350 AWD and GS 460 RWD. Optimized for low internal friction, the GS 350's 3.5-liter V6 engine produces 303 horsepower at 6,200 ...
Anti-glare inside rear view mirror
In automatic mode, sensors are used to detect the headlights of vehicles behind and the reflected light is automatically reduced. Turns automatic mode on/off The indicator comes on when automati ...
Lexus Audio Systems with Bamboo Charcoal Speakers
The Lexus CT 200h builds on the legendary standards already established by Lexus in the field of in-car high fidelity with a choice of three powerful audio systems. Fitted as standard, the entry ...