Positioning a floor jack
When raising your vehicle with a floor jack, position the jack correctly.
Improper placement may damage your vehicle or cause injury.
Front

Rear

CAUTION:
When raising your vehicle Make sure to observe the following precautions to reduce the possibility of death or
serious injury: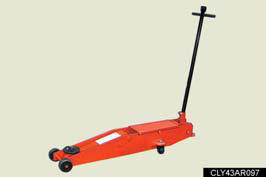 Lift up the vehicle using a floor jack such as the one shown in the illustration.
Do not use the jack that was supplied with your vehicle.
Do not put any part of your body underneath the vehicle when it is supported only by the floor jack.
Always use automotive jack stands on a solid, level surface.
Do not start the hybrid system while the vehicle is supported by the floor jack.
Stop the vehicle on level, firm ground, firmly set the parking brake and shift the
shift lever to P.
Make sure to set the floor jack properly at the jack point.
Raising the vehicle with an improperly positioned floor jack will damage the vehicle
and may cause the vehicle to fall off the floor jack.
Do not raise the vehicle while someone is in the vehicle.
When raising the vehicle, do not place any objects on top of or underneath the floor jack.
Vehicles with electronically modulated air suspension (if equipped): Be sure to turn off the height control and stop the hybrid system. Otherwise, the
vehicle height may change in the automatic leveling function.
See also:
Performance
Review-OnRoad You need to work the 2.5-litre V6 petrol engine hard to extract maximum performance, but it pulls cleanly from low revs and is punchy enough for assured overtaking. Similarly, the di ...
Mileage, Models, Reliability
The RX is offered in both front- and all-wheel drive, as well as a hybrid version called the RX 450h. Choosing between the front-wheel-drive and all-wheel-drive versions likely won't hinge on gas ...
2011 Lexus CT 200h review By Scott Burgess
Americans love hybrid hatchbacks, but mostly for the hybrid part; overall, we're still lukewarm on traditional hatchbacks. Lexus added a third ingredient — budget luxury — to create the CT 200h. W ...