Luggage compartment features
Cargo hooks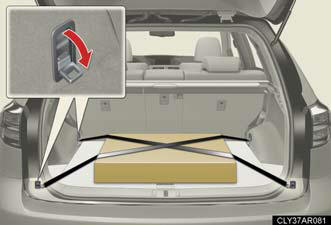 Raise the hook to use.
The cargo hooks are provided for securing loose items.
Auxiliary boxes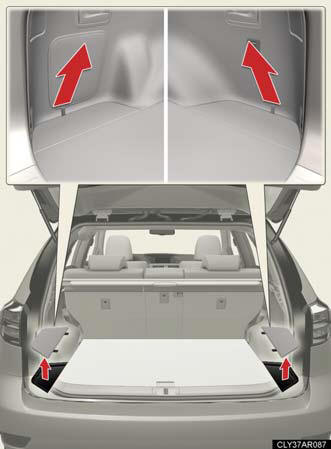 Pull the strap upwards when lifting the cover up.
Luggage covers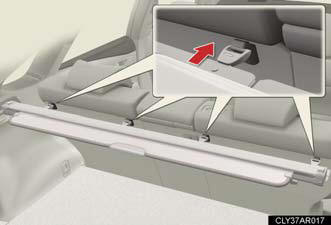 Attach the hooks to the hook brackets on the rear seat seatback.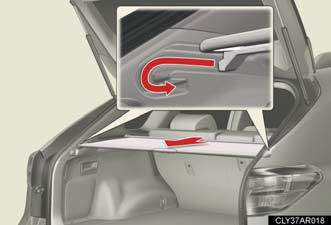 Pull out the luggage cover and hook it onto the anchors.
Removing the luggage covers
- Front luggage cover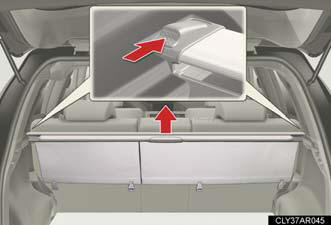 Press the buttons to remove the luggage cover.
- Rear luggage cover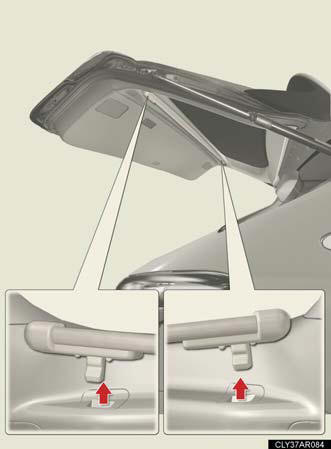 Detach the outer clips of the rear luggage cover from the back door.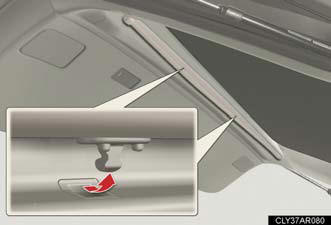 Detach the inner clips of the rear luggage cover from the back door.
Installing the rear luggage cover
Ensure that the luggage cover is in the proper installation position.
Push the clips of the rear luggage cover into the indentions on the back door until they are locked into place.
Check that the rear luggage cover is securely attached.
CAUTION:
When the cargo hooks are not in use To avoid injury, always return the cargo hooks to their stowed positions.
See also:
Engine compartment
1. Power steering fluid reservoir. 2. Engine oil filler cap. 3. Engine oil level dipstick. 4. Brake fluid reservoir. 5. Battery. 6. Fuse box. 7. Electric cooling fans. 8. Condenser. 9. Radia ...
What's it up against?
This one's tough to answer: The ES doesn't really have many direct rivals aside from the Ford Fusion-based Lincoln MKZ, the Cadillac CTS , the Acura TL and the Volvo S80 since the segment is all-b ...
Indicators and warning lights
The indicator and warning lights on the instrument cluster and center panel inform the driver of the status of the vehicle's various systems. Instrument cluster The units used on the speedometer ...