Outside temperature display (vehicles without a navigation system)
The temperature display shows temperatures within the range of -40°F (-40°C) and 122°F (50°C).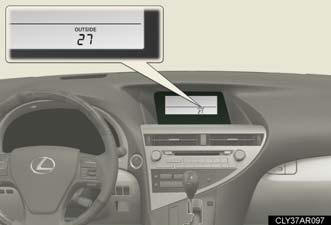 If the temperature does not appear
The system may be malfunctioning. Take your vehicle to your Lexus dealer.
Display
In the following situations, the correct outside temperature may not be displayed, or
the display may take longer than normal to change: When the vehicle is stopped, or moving at low speeds (less than 16 mph [25 km/h]).
When the outside temperature has changed suddenly (at the entrance/exit of a garage, tunnel, etc.).
See also:
Multi-information display
The multi-information display presents the driver with a variety of drivingrelated data, including the current outside air temperature. Trip information. Displays driving range, fuel consumptio ...
Hybrid system precautions
Take care when handling the hybrid system, as it contains a high voltage system (about 650V at maximum) as well as parts that become extremely hot when the hybrid system is operating. Obey the cauti ...
Lexus LS 460 Review
For more than 20 years, Lexus' LS has showcased the brand's top levels of technology, interior furnishings and driving refinement. The Lexus LS 460 is the latest model in this well-known premium l ...