Clock
The clock is displayed when the "POWER" switch is in ACCESSORY or ON mode. Perform the following steps to adjust the clock.
- Without a navigation system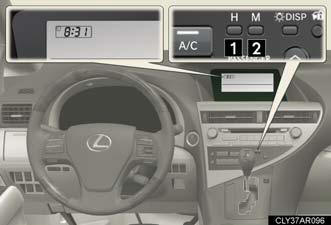 1. Adjusts the hours.
2. Adjusts the minutes.
- With a navigation system Refer to "Navigation System Owner's Manual".
The time display will automatically be set to 1:00.
See also:
Turn signal lever
The turn signal lever can be used to show the following intention of the driver: 1. Right turn. 2. Left turn. 3. Lane change to the right (push and hold the lever partway). The right hand sign ...
Setting a mobile phone
Registering a mobile phone in the hands-free phone system allows the system to function. The following functions can be used for registered mobile phones: Functions and operation procedures To e ...
Hybrid vehicle driving tips
For economical and ecological driving, pay attention to the following points: Use of the Hybrid System Indicator More fuel efficient driving is possible by keeping the indicate of the Hybrid Syste ...