Under tray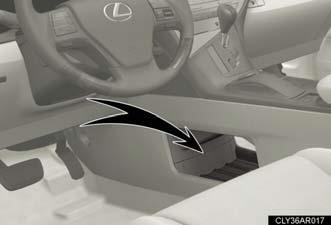 CAUTION:
Items unsuitable for the under tray Observe the following precautions when putting items in the under tray. Failure to
do so may cause items to be thrown out of the tray in the event of sudden braking or
steering. In these cases, the items may interfere with pedal operation or cause driver distraction, resulting in an accident.
Do not store items in the tray that can easily shift or roll out.
Do not stack items in the tray higher than the tray's edge.
Do not put items in the tray that may protrude over the tray's edge.
See also:
2011 Lexus RX 350
After a week test-driving the 2011 Lexus RX 350, a headline in the Wall Street Journal's April 18, 2011, edition caught my eye: "Lexus Falls Behind Rivals." The timing of this article wa ...
Interior
Lexus says the 4 inches of greater length from bumper to bumper adds the same amount to the cabin. In terms of legroom, inches make a big difference. Still, the third-row seats are similar to the ...
Fuel information
Your vehicle must use only unleaded gasoline. Premium unleaded gasoline with an octane rating of 91 (Research Octane Number 96) or higher required for optimum engine performance. If 91 octane canno ...